What cool things can your dogs do?

United States
July 9, 2008 8:42am CST
Lol its been awhile guys but im finally back on mylot. But back to the subject at hand. what cool tricks and other things can your dogs do? I have a border collie and im not trying to brag but ppl tell me those dogs are smart and they reallllly are. My dog marley is 4 months old and she was potty trained within the first month which I think is cool. but the coolest thing she does is when I take a toy of hers and put it in my room then I come back into my living room ( and I tell her to stay in the living room and she stays btw lol) and then I tell her to go get a toy of hers like spongebob or her ball and she will take off like a bat out of hell and go get it and bring it back to me. so far she can only do 4 toys but its still pretty cool. also we do this cool thing where I start arguing with her and she barks like she is talking english lol its funny as crap. so mylotters what cool things can your dogs do?
4 responses


• United States
10 Jul 08
My Dog, listens to me, like he understands English, Ok. HE was sitting on a chair, I put out my hand "Gimme 5!" He lifts his hand,I take my hand away and say "No... Other hand!" I didnt expect him to do it... But he stuck his other hand up in the air...

• United States
9 Jul 08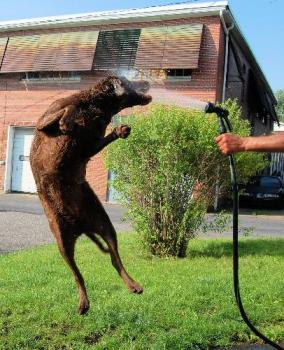 It's funny what you can teach a dog, and a lot of them pick it up in a very short time. My s/o taught our dog what the ice cream truck is! She thinks it plays her song, her name is Tinker, and he 'sings' the ice cream truck tune, tinka di tink tatink tatink, and she looks out the window. She now hears the ice cream truck coming long before we do, and goes and watches out the window for her to come and stop at our house. We also ask her 'who lives here?' and she will go to the windows and look out and bark, she is telling everyone who lives here lol One of the funniest things she will do, is go sit next to him, he covers her eyes and counts (like playing hide and seek) while I hide several of her treats around the house, and as long as he is counting softly to her she just sits there, but when he says 20! louder, she takes off to find her treats. She is a Chesapeake Bay Retriever, 3 years old. She also loves jumping and playing in the water hose and will look at the faucet waiting for you to turn it on.

• Philippines
9 Jul 08
i guess the cool thing that my dog does was that when i left my laptop in our backyard, she would guard it until i return. but she she makes me wanna kill her when i found out that she destroys my laptop keyboard a year ago lol