When u say..it is perfection to core.. it must be this performance.(see photo)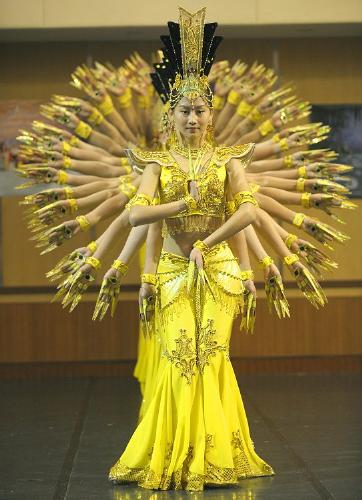 India
July 9, 2008 9:56am CST
What a rigorous practice.. is needed to put up this performance on the stage.. It is so staged that this beautiful lady is given a "Godly image". We have Hindu Gods, having 12 hands.. or 4 heads...etc.. But when this comes to reality.. this show is immaculate one..every one in the performance has performed to the " core of perfection". Finally i put a question to friends here.. now that you have seen the photo.. can you tell me how many participants have been there.. by counting the number of hands.. Sorry i failed in this effort.
1 response

• Indonesia
9 Jul 08
hi saivenkaat, what a wonderful photo! they lady is so beautiful, that is really a posh performance. i wonder how they managed it, so their hands could create the wonderful pose. well, counting their hands, i guess they are 18 people. but maybe some of the hands is closed by the lady's head accessorizes. so i think they are 20 people.

• India
9 Jul 08
Wow.. you enjoyed it,.. and you managed to count the number of hands.. Great..