Another payment proof from survey site $17.30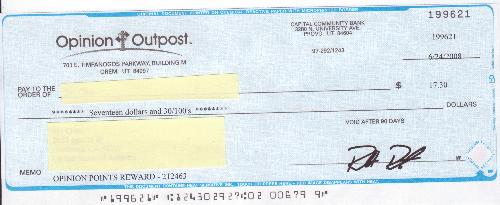 United States
July 11, 2008 12:55am CST
Hello my friends. It is July 10 and I received another payment by mail today. The total is $17.30 from survey site call Opinionoutpost. This is my second payment from them. They have really great, short and fun survey. However, the downfall; they only pay by check. Which takes them about one month to send you the check. However, the pros: While waiting for the check I already earned an additional $16.10 on this site again. I am ready to cashout again. Which will put my total at this site at: $41.40 Which is an excellent rate considering I only started with this site in Early April or maybe May (I don't remember the exact date) This is for USA and (I think) Canada residents only. The survey link is only by email invite. Pls PM me your email address and I will be more than happy to email you the invite. Good luck to all those that already a member. Happy survey taking.
4 responses

• United States
11 Jul 08
THey, that's great you are a member of this site. This is my most lucrative survey site. I love it. I have been paid over $120 with this site. I, too, wish they would offer other payment methods besides check, I prefer paypal. At first I used to cash out as soon as I reached the $5 minimum, but I was earning so quickly, I decided to wait and build up my account so then I could request a higher check amount. I always had a check coming from them.

• United States
15 Jul 08
I agree. I waited until I had at least $50 to cash out last time. This time, I all request a check at $20. It' s great that you have payment proof. I should have really taken the time to take a photo of my checks. I'm always so eager to cash them right away, lol.

• United States
11 Jul 08
wow you have really done well on this site congrats to you.

• United States
11 Jul 08
Congratulations. I would also like to join Opinionoutpost. Send me the link. I am always looking for creative ways to earn money. Just send me the message on here with your link. Do you know how much they pay per post?

• United States
15 Jul 08
Hi Coolchic So sorry for the late reply. Been busy lately Opinionoutpost is a survey site. they pay an average of $3.00 per survey that takes about 15 minutes. They accept USA and Canada members only. I cannot post the link here it is against mylot rules, but I also need to send you the invite via email. Pls PM me so I can get your email address for the link. Thanks

• Canada
12 Jul 08
Thank you for the payment proo. It's always nice to know that people get paid on other sies, as well as MyLot. I'll have o check it out. Thanks for letting us all know about this one.