Ooooo that smell..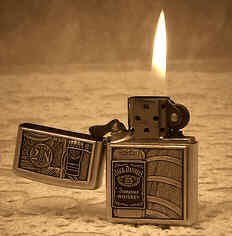 United States
July 11, 2008 10:56am CST
I was listening to some music earlier and the song "That Smell" by Lynyrd Synyrd came up on my playlist. While the song was playing I reached for a cigarette and my trusty Ronson lighter (I know, I know I shouldn't smoke) and the smell of the lighter fluid suddenly sent me on a instantaneous journey back to a moment in time. My father, when I was a child, was a very muscular, barrel chested man with a large tattoo of an eagle across his chest. A tough, larger-than-life type of guy and I adored him. He was also a very heavy smoker and had several Zippo lighters so his hands and clothes always smelled like lighter fluid. Once when I was very young, maybe 6 or 7 yrs old I was sitting at the kitchen table with my father while he was refilling one of his lighters. He must have accidentally spilled some of the lighter fluid on his index finger because when he was finished and lit the lighter his finger burst into flame. He had a curious look on his face and just held his finger up in front of his face, looked at it, gave a little chuckle and blew out the flame. To say the least I was completely in shock. I was old enough to know that even getting within an inch of fire can burn skin yet there was my dad... on fire ... and laughing about it! All I could think was, my dad must be a superhero because only superheros can do things like that! He tried to explain what happened and I, in my child-like way understood, but it didn't seem to change the thought that MY dad was some kind of Superman. All of us know that our sense of smell is very powerful and certain odors can relax us, revive us, turn our libido up a notch, make us want to hurl, and help us recall memories of our past. My father died in my arms back in 1988, a sick, frail, shell of what he once was, and still my best friend. But for that moment, as I lit my lighter, he was my superhero again. A very powerful moment to say the least. Is there a particular odor that takes you back to a wonderful, life-changing moment in time?
9 responses

• Olney, Illinois
11 Jul 08
I can't really say that an odor brings back any memories for me, but I wanted to say that I really enjoyed reading what you posted here. I can certainly understand how the cross-reference effect of an odor worked for you; with me, it's usually something visual or certain words overheard that make my mind go back to an earlier time.

• United States
11 Jul 08
Glad you enjoyed the post. Men do tend to be more visually oriented. Thanks myklj!

•
11 Jul 08
I relate two or three smells to my childhood. I used to stay with my grandmother and grandfather quite a lot. They lived in a little Sussex Village, called Scaynes Hill, which had one butcher, one general store, one post office, and this row of cottages where my Nan and Grandad lived, which had a bakers on one end and a cobbler/shoemaker on the other end. I can well recall the smell of freshly baked bread wafting along from the bakers, and have loved that smell ever since. The second smell was the rabbit which was constantly cooking on the stove. My Nan used to cook rabbit and its giblets up for the pets, and also make rabbit pies and stews for us. As a mother of seven, I suppose she was used to being thrifty and rabbit was one of the cheapest meats, aside from liver. The third smell is the smell of the gaslights in their living room, which had to be lit each night, but they would have to let a little gas into them before lighting, and I'll always remember that. I forgot, of course, the smell of the candle wax as I carried my candle up to bed, and after she'd blown it out. Perhaps that's the reason I'm so keen on candles and incense today, my friend. Brightest Blessings. xx

• United States
11 Jul 08
Ah yes the smell of fresh baked bread, pure bliss! Me and my Grandma used to make "fried bread" every Christmas. Basically just chunks of bread dough stretched so it would be crunchy in the middle and soft around the outside, then deep fried. Oh I would make myself sick on those things every year. You'd think I'd learn but nooooooooo! They were just irresistable. But every time I smell fresh bread I think of those days with my Grandma. Thanks my friend!

• United States
11 Jul 08
Yes there is. Its a bit strange but I will tell you about it. When I was about 5 or 6 yrs. old I received a Betsy McCall Pretty Pac for Christmas. It was a pink vinyl case with make up, nail polish, brush, comb, and all sorts of girly things in it. I loved it. To this day when I smell vinyl I think of that make up bag I got for Christmas.

• United States
11 Jul 08
Lucy honey, I think the smell of lighter fluid is comforting.. trust me yours is not that strange!

I think yours is great. The first time you get grown up girly type things is very special to little girls. The smell of the case would definitely be a factor in that kind of wonderful memory. Thanks for stopping by and for sharing a special memory :D

• United States
11 Jul 08
That's an interesting question. The smell of the (awful) beverage, Zima, reminds me of a summer I spent as a lifeguard, and at night the lifeguards would get together and sit around in a hot tub. Back in the days I looked good in a bikini!! Not much, else, though. I know scents bring back memories, but I don't have any really strong ones.

• United States
11 Jul 08
Oh wow CraftCatcher. What wonderful memories. Quite a few years ago, when I was working in a factory, I had an experience that involved an odor. All the doors to the factory were open and there was a nice breeze blowing through the building. The weather was sunny and very pleasant. I was going about my business, just working away. From out of nowhere, an odor came over me and it triggered memories of the garage that was attached to the house where I lived while I was in grade school. That garage holds many memories for me.

My dad used to build bow strings and arrows for fellow archers. He and Mom made trophies for the local archery tournaments, too. There was a big window fan that would draw a nice breeze through the house. Dad had a drafting table there, too. My trusty red and black wooden rocking horse was always ready for an adventure. It really is so strange when an odor can bring on past memories in such a powerful way.

Thank goodness, the memories that have been brought about by odors have been good ones.


• United States
11 Jul 08
Thanks blue! Good memories for you too. I can't think of too many odors that bring back bad memories for me. I'm sure they're there lurking in my mind somewhere but so far they've all been good. Take care :D

•
11 Jul 08
A smell of morning coffee takes me right back to my early childhood. My mother used to make coffee early in the morning and my earliest memmories are linked to cold winters mornings and cups of fresh hot coffee blessed be

• United States
11 Jul 08
My mother wasn't a coffee drinker and my dad only drank instant coffee. But my Grandparents (Mom's parents) were both big coffee drinkers so they always had a pot of coffee percolating on the stove. The smell of fresh brewed coffee always reminds me of them. Thanks Eskarena!

• United States
11 Jul 08
Aww...That was a great memory...I do have to say that I have felt the same way when I think about my dad...Him and I have started recently growing apart just because I'm an adult now. But I can always remember some of the same instances like you have shared. My dad has always been a very strong man. Great muscles, very protective. Supporting. When I was little I would always think of my dad as the strongest man in the world. When I was young we had a pool at one of our houses. He would always pick me up and fling me high into the air, and I just remember feeling like I could fly when he did that. Like when I was in the air, I was the most important thing in the world. And then I came back down, hit the water and instantly came up smiling, asking for more. It was a great and fun time when he did that. I regret that we've grown apart, but I can't change who he is, and why we've started to part. But I will always love my father like a best friend, and will always think of him as my protector.

• United States
12 Jul 08
That's such a great memory! You always remember moments like that. So sorry you and your dad have grown apart though.. life happens and sometimes it puts distance between loved ones in more ways than one. At least the love is still there and that's what counts the most. Thanks for stopping by and sharing that great time with us Nodda!

• Argentina
11 Jul 08
Incense? The rain smell, ahhh what a nice smell...

• United States
13 Jul 08
yea,i watched my dad die slowly and painfully from cancer. it was hard to watch a formerly big,strong independant man go like that. i get emotional from the smell of old trucks.y'know that oil type smell some of them get? he always worked on cars-reminds me of him.

• United States
14 Jul 08
It's strange to me how an odor that we would not normally consider pleasant can be such a comfort to us. Thanks so much for stopping by scarlet_woman!