My cat is better than your cat. LOL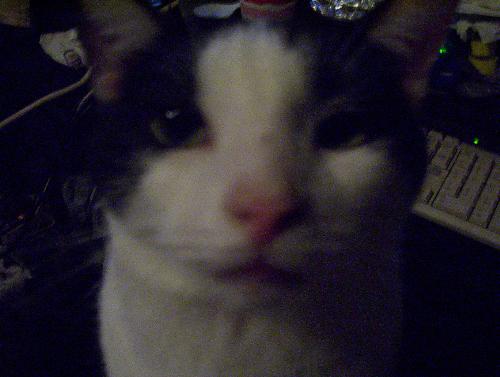 United States
July 11, 2008 10:31pm CST
Kittens can be messy and get food and other stuff in their fur. So one day I was going to give some kittens about 6 weeks old a bath. I had about 1/4 inch of water in the bath tub. Not enough to cover the entire bottom. I put the kittens into the tub. They were meowing to get out. This attracted my cat Muppet to come and see what was all the commotion. He was very curious. But I figured they'll be fine and went to get a sponge. While I was away he took 2 of the kittens out of the tub. When I returned he was in the process of removing a third. He had it by the scruff of the neck like a mother cat would do. He was saving the kittens. Ever since he was able to get out of the box he was with me. He would sit in my lap under the keyboard. When I am home he is always with me. He will fetch and comes when I call him. He also stands on his hind legs. He is even a great hunter. He leaps into the air and catches moths. LOL He is a very nice cat. I introduced him to a stray and he was nice to it. My other 2 cats got angry. LOL I even saw him cover a different cats poop today. MyLotians, tell me why your cat is great.
2 responses

• United States
14 Jul 08
Paco is my "main man." Bucky is my "Handsome Man." Sherbert is my "snot-nosed little brat." And Angel was... God bless his spirit... well... he WAS MY ANGEL! I cannot say enough about how wonderful a cat he was. Killed 2 years ago by a car... at only 4 years old. A beautiful life snuffed out too soon. Love him always.

• United States
15 Jul 08
I am sorry to hear that. It truly is such a terrible thing. I've lost a couple cats to cars when I was younger. Now I don't let them go outside until I get a place with a lot of land. Then I will let them out on a leash. Isn't it neat how they all have different personalities. I have 3 and they are all different. One of them will not sit on your lap and will not let you hold her. She never did. Not even as a kitten. I was taking care of her mother so I have had her from birth. I call her the B**CH. LOL

• United States
12 Jul 08
Ny cat is sweet and serene. He always uses his litter pan, comes when I call him, and lets me know if soemthing is wrong around our house. I once droppe ahotdog and he brought it to me. I love my little cat guy. I think he is the best cat that I ever had. sweet, sweet cat.

• United States
12 Jul 08
The cat was probably thinking.... A HOTDOG? who knows whats in that. LOL