My friend and I went out for pizza today.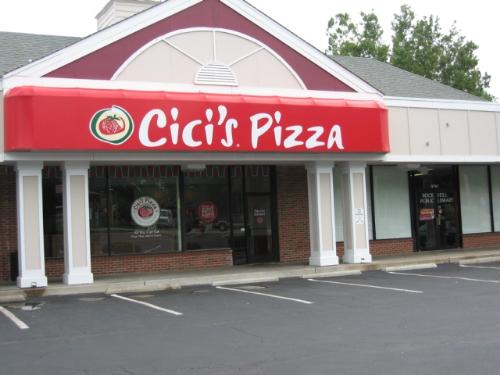 United States
July 11, 2008 10:54pm CST
She and I went to a pizza buffet, and we ate until it hurt to move. The place is called Cici's Pizza. I just love pizza! The buffet has a lot of variety, and they even customize a pizza if a person requests it. They also have soup, curly pasta (I am not sure of the name) with sauce, salad, and various deserts. They even have a small gaming room in the back. I played some silly motorcycle game while I watched my friend play a knock-off version of a DDR game. I even tried with her once, but because I have never played, I was all over the place. Miss! Miss! Miss! Haha.=D
8 responses

• United States
12 Jul 08
I love some CiCis pizza. It is cheap and good and really filling. I can't eat there very often though because it will get to you if you aren't careful. The best part about CiCis is the cinnamin rolls. Those things are absolutely amazing. My friends and I go there after practice about once a month and a lot of pizza is eaten.

• United States
12 Jul 08
We play baseball. After a long day of school and practice, there isn't much better for sitting down to a big meal. A lot of us don't have time during the day to eat much lunch. I normally have to settle for a sandwich. A 3-4 hour practice will give you a good apetite too.

• United States
12 Jul 08
Hello Valenas, My husband and I used also to go out with a pizza place..I call it unlimited..LOL! We can start with a salad then all the pizza that we can handle to eat.. After, you have have a dessert from a different small slices of sweet pizza..It's really great! I am telling my husband that we have to minimize going there or we will be changing our clothes! HAHAHHA!

• United States
12 Jul 08
It's a bit unhealthy, but it's still good, right? (: My mother would always get angry about eating so much there, but it is so good, and I just shred through the slices like I haven't eaten in a week. I love the games in the back, too. Cici's is juts a very fun, friendly atmosphere. Thank you for responding.

• United States
12 Jul 08
I will not think about unhealthy really when I am there..I will eat as more as I can handle..LOL! Cheers! Sad, we don't have any game in our place..LOL!


• United States
17 Jul 08
I've been to one of those places before. They are great those buffets. You can try an array of different things. I enjoy trying different things. It seems also that buffets provide more of a friendly atmosphere not to mention they can be economical. I haven't been to one in a while but it is about time I got to one soon.


• United States
16 Jul 08
Yes, it is a fair deal. If only the place was not across town, though. The only reason we were able to get there is because we were already in/headed to that area. My other friend was asking me how they can afford to do that. I am guessing some people come in there with their eyes bigger than their stomach, and they think they will be able to eat more than they can actually consume.

• United States
12 Jul 08
I do that a lot, eat until I feel like I'm about to vomit. I saw a commercial for CiCi's pizza recently. And go figure, it's nowhere near my area. I really hate New Jersey sometimes. I'm still waiting for a Sonic. I've heard that CiCi's has a gaming area. That's really cool.

• United States
12 Jul 08
Oh wow, I've heard of this place, but never knew if I'd like their pizza, since I am extremely picky. I love pizza, but am very selective about where I get it from. But this place sound like they probably have a lot of choices. And buffets are always good from a money standpoint. Funny thing about them is, I go there thinking oh man, I could eat everything, then I eat a little bit and get full. It seems like the second I enter a buffet my appetite shrinks! LOL But this place might be a good place to try! And the game room, that sounds so cool! Since I moved and I'm not by the ocean anymore I don't have any beaches/boardwalks/arcades to hit up! So a little game room would be a nice treat along with pizza. LOL Oh, how did your b-day turn out? I hope it was a great one!


• United States
12 Jul 08
I would suggest just giving the place a try, and if you don't like it, you don't have to go back. I am easy to please when it comes to pizza, so my opinion is very biased. I am not much of a critic. And, I have the same problem, but only when I am planning on going there in advance. If it is a sudden thing, I practically eat everything and the table it's sitting on. My birthday turned out quite well, thank you for asking. My friend and I spent three days together, and we were able to do a lot of talking about almost everything. We played a video game, and then played around online for a while. We just did simple stuff, and I had a good time.


• United States
12 Jul 08
It is a good place, and they have excellent service. All of the staff members are friendly, and they are constantly checking up on the customers to make sure that they're satisfied, and asking them if they would like anything. They greet everyone and they say good-bye, and it's like being part of a silly family. It is very cheap, as you said, and they have good food.