17+ pages of unresolved discussions... sheesh!

United States
July 15, 2008 3:50am CST
I had no idea I had so many pages of discussions where I didn't mark someone best response! I'm actually going through most of them and hopefully in the next few days I can get most of them marked down & determine who exactly deserves the best response!

It's also a good way to test out how well marking people best response pays, as well as how well rating a lot of peoples responses pays too, if it all?

I wouldn't really know. I know it supposedly effects you the person if you're rated, but does it effect the rater? Does marking best responses yield any profit? What do you all think? How many pages of unresolved discussions do you haveee?

1 response

• Philippines
15 Jul 08
geee! just like you i got lots of unresolved discussion and i just noticed that it is the discussion that i forgot to denote who the best respondent., well, yes you will gain more earnings if you got the best response but if your a rater i guess there is no additional points or earnings for that., well i just hope mylot be more generous to give us more of extra money for that., lol! have a nice day ahead!


• United States
15 Jul 08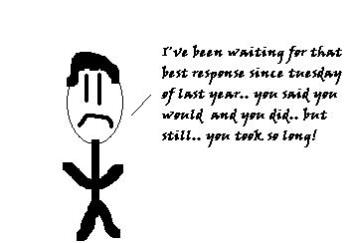 Well, I think i'll definitely find out about the whole rating thing since for the most part today i'll just be rating people and awarding best responses..

apparently I have 30+ pages instead of 17+ I was wayyyy offf!

Don't worry though, I too just realized that kind of that it was all the discussions you didn't award a best response to! I kind of figured it must have been as i'm not sure how else they would determine an unresolved discussion without reading each and every discussion themselves.., anyways! Thanks for the response,