The ineffective Anti-Virus you've used

Philippines
July 15, 2008 5:52am CST
I've used ESET NOD32 Business Security before but too bad, i get infected with a virus and a spwware, that was very troublesome indeed. I couldn't see my hard drives and the admin privileges were blocked. Virus first attack the hard drives, deleting or changing settings to your computer.
2 responses

• India
15 Jul 08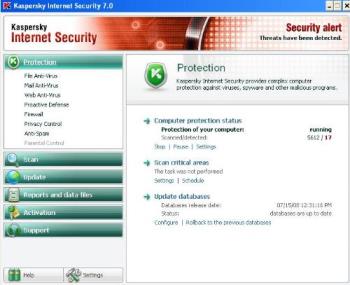 The most annoying and resources taking antivirus I found is Norton. It is a useless anti-virus it doesnt block the latest viruses and also it slows down the system a lot. I found the antivir and Avast to be more effective and both take very low resources. I am using Kaspersky Internet Security though and have found it to be working as well.

• Philippines
15 Jul 08
I'm using Kaspersky Internet Security 7 too, it is really effective. tnx for the comment.

• Greece
15 Jul 08
I have used almost all anti-virus in the market. Some I kept for long, others were uninstalled right away. Kaspersky was uninstalled after 3 minutes, Norton worked for 1 year, Panda for half a year before uninstalled too. Now i have decided to try the free ones, and they prove better. They arent perfect (no anti-virus is perfect)but they work better than the commercial i have tried. And by the way, NOD 32 was out fast, because it is too slow at scanning. people have written good reviews for it, but what i know is it didnt work at my pc effectively. You canno expect every antivirus application to find all threats. Thats the sad thing about computer security


• Philippines
15 Jul 08
That's great if you've tried them all so that you can compare which AV is more effective. Some Anti-Virus is poor in detecting Real-Time, others are great in manual scanning. Each AV in the market today has some pros and cons.