Want to join a site that pays you to post links?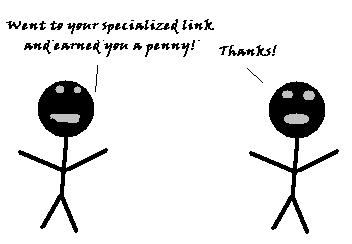 United States
July 15, 2008 7:12am CST
You basically post a link with their own "personal link" so to speak that still directs you to the proper site but the person clicking will have to endure some kind of advertisement. It's definitely worth your time if you spend a lot of time on forums & youtube n' such, or just surf a lot of different pages a day and like showing them off to your friends and family!

I can't say that it pays yet as I litterally just joined but you don't have to put in anything too personal to join so it seems like it would be worth a whirl. I haven't seen any bad feedback from them through all the different searches i've did so that's usually a good sign! The plus side too is that mathematically it does add up & they do seem to work with google adsense, which has VERY strict rules when it comes to abusers n' whatnot. Which makes me even trust them further if Google Adsense is working with them kind of.

If you're interested, let me know here & send me a friend request. I'll PM you with the information whenever I wake up that you need so you can start earning for yourself!

2 responses

• Egypt
15 Jul 08
i think you mean ucash i think its good site but i do not how to make the money or how does they pay

• Philippines
15 Jul 08
how much do they pay for each link poste?