Favourite crisps discontinued:(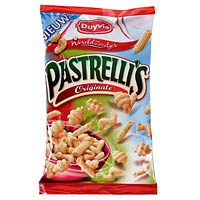 Netherlands
July 16, 2008 9:21am CST
Cruel irony, you try to loose some weight and you cut down on the crisps. Off course the next thing the giant crisp conceirn decides is to discontinue your all time favourite crisps just like they did the last time you finally found a flavour you love... ARGH! What annoys me the most is that they are still making commercials for it and are still promoting it on the site. First time I called I got the names of some stores that should still sell them but they were nowhere to be found. Turns out that this was a lie and another employee told me that they were no longer manifactured. The stores allready told me this but I like to make sure because if they are still out there somewhere I'd love to know

. Has this happened to you before? It seems to happen to me all of the time, I guess I like food that doesn't sell well??p.s. found an online shop that might still have a couple of bags, fingers crossed!

1 response

• United States
16 Jul 08
it happened to me when i was 12 or 13.. they stopped producing my favorite kind of crisps, so I got mad, looking everywhere for it!

but now I don't really have a favorite one.. I pretty much eat everything, and I don't worry at all about getting fat, because no matter how much i eat I don't get fat


• Netherlands
16 Jul 08
That's a good thing, I do try and watch what I eat because obesity runs in my family; better to prevent it than to be working the rest of my life to get it off

. Luckily I do not like a lot of different sweets but these crisps and ben en jerries ice cream are two things I can't keep my hands off

. So now we're down to ben en jerries

.