Ever given up a hobby because you stopped enjoying it?

Australia
July 19, 2008 4:26am CST
I use to paint with oils, although I wasn't a great painter, but I wasn't a real slouch, either, but because of my silly 'standards', I didn't feel like my art was good enough, and tried harder and found out I no longer enjoyed painting. It became a chore, just to pick up a brush. The last painting I did was about 6 years ago, and I keep trying to get the feel for it back, but always find an excuse as to why I can't. Has anyone else lost interest in something they loved doing, and if so, did you eventually regain your love for it? Did you have something that helped you with it? If so, I'd love some tips?
8 responses

• Philippines
19 Jul 08
Yes, I have given up several hobbies of mine because I lost interest in them. One would be painting. The last painting I did was about 5 years ago. In fact, I already gave away my painting stuffs. I also gave up collecting stamps. I rarely receive mails through the post office and so I hardly get to have a lot of those stamps. I do not know whether I would ever regain my love for those hobbies. My friends have been encouraging me though. Well, maybe, one day...

• Australia
21 Jul 08
I've kept all my painting gear, in the hope of one day resuming, and like you, I also collected stamps, but that was years ago and I can't see myself ever getting the urge to do that again, though. If your friends keep on encouraging you, as my family does with me, maybe we will both take up painting again, although you'd be starting from scratch.

• United States
21 Jul 08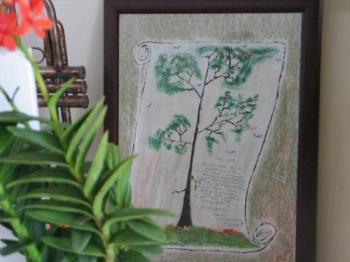 hello muscare, i cant believe you are a painter. i love to paint as well though paint dont love me unlike you, seems like paints are swaying on your ways and not mine. i always love arts since i learn how to scribbles i guess, i remember when i was a kid drawing a lot of stuff and do other crafts and anything about arts BUT my mom (being a single mom) always tell me that it is not good enough and that i should not be wasting my time and all words that i feel at that age is not fair coz i feel a parent should support their child's wants and passion in life BUT she did not. so that makes me feel that maybe my passion and love for arts and crafts is not good enough to pursue so i just forget about it and just keep it inside coz i dont want to upset my mom all the time. anyway, i love this passion all my life and i keep it within. i have this creative mind and that helps me enjoy simple stuff coz i see it differently not the norms i guess. to answer your question who helped me out to make my love for arts alive... it is my husband. he gave me all the support i need to enjoy this passion again. here is his ways... i love to paint - he bought me easel, water colors, paint brush, paints, videos of Bob ross (he knows i love Bob Ross' painting class) and he brings me to art museums. i love fashion designing - he bought me portable sewing machine, sewing materials, fabrics (even went to Fabric market in Hongkong, Shanghai and cities we've been), fashion designing books and magazines and even fitting mannequin (yeah he is that supportive haha) oh he also supports me when i asked my friend to design me a logo and i have it made as my clothing tag. i love polymer clay - he bought me all kinds of sculpley clay and other accessories for it so now i am making it (ok trying to make it) i love scrap booking - i now have all kinds of scrap (which he sometime called CRAP haha!) and he now have all kinds of i love you cards that i made for him haha! my in-laws enjoy it too. i am planning to make bunch of them to give away this Christmas to a home for the aged in Illinois. i love to learn web designing and interior designing - he bought me software and books and magazines that helps me understand and do what i enjoy best. anyway, such support not only materially gives me all the hope and the excitement that i needed to fall in love again in arts. i enjoy it and i am happy about it. i know some people will think it is just a waste of time and money but my hubby never sees me that way and just want to bring out the best in me. NOW you understand why i have so many stuff going on in a day beside being online haha! btw, here is my first try painting a tree. it is my Christmas gift to him (i just make stuff as my gift coz i dont have my own money to buy gifts hehe) and mind you there is a couple who wants to buy it but i said NO coz it is a gift for my man. anyway, how about you? any plans to paint again? can you share your last painting to us if you dont mind? i know my art is bad but i love it no matter what and that is all i care. i think when you have a passion for something it remains there all the time, it is just how you manage to make it happen again. talk to you later...

• Australia
24 Jul 08
You are a very arty person, from all the styles you do, and it is great that your hubby gives you so much encouragement, especially after what your mother thought of art. I agree that parents should be supportive of their kids hobbies, especially if it gives them enjoyment, and negativity should never come into it. I thought your tree was pretty good, and I like the creativity with the scrolly look! I might have shared one of my paintings, but my computer/internet connection is slow, and it takes forever to do certain things, that's why I don't bother with photos and such. I feel as though I'm getting closer to picking up a brush, so hopefully it won't be too long before I'm painting again!

• United States
24 Jul 08
why thank you! is artsy a good compliment or not haha! i am still not sure, oh well! thanks for thinking that my tree is pretty good (i hope you didnt choke when you write it LOL) i always like scrolls and that is the first time i tried it as well and i am happy with the outcome

yes, i am very grateful that my man have provided me with all the support, love and materials

i needed all this time. yesterday he went out to meet his colleague and on his way home he drove to this arts and crafts store and bought me all polymer clay accessories and even some other plain blocks and lots of whites. i told him last week that i dont have a white one and i am very touched that he remembers that and gave me a surprise gift. i am very overwhelmed. i think he wants me to be so busy that i dont have to bug him while he is working hahaha

anyway, my mom is a good mom just frustrated i guess at that time coz she is working 2 jobs just to provide for us (we are three kids) and it is not easy if no one is helping out. so i just tried to understand her as much as i could though it hurts at times. i was so in to it and it is not that easy to be rejected and be put down. hmmmm! BUT i learned from that and i guess that is all that matters, i am not gonna do the same thing to my future kid and i will support them in any way possible and im sure my husband will do the same and more - i kinda see that the kid will be so spoiled (in a nice way) coz he spoiled me big time haha! i hope you pick that brush any time soon coz my birthday is 2 months from now and i will not mind having one as my gift hahaha! PM me whenever you get a chance to upload a sample of your art as i dont know if you will post it or not - hope you dont mind (im sure you can wait a day for it to upload LOL) wish you all the best!

• Australia
25 Jul 08
I actually meant it as a compliment, believe it or not, LOL! I was also going to say that hubby was probably trying to keep you busy and out of his hair, but you beat me to it, LOL! Whatever the real reason, you keep it up, and yes, I can imagine you'll be really good parents, and your kids will be very spoilt! Nothing wrong with that. Well, your birthday might be an incentive to help me start painting again, and hopefully it'll be this years birthday, LOL! No guarantees on the upload, but I will keep you in mind if I do get started, and I get a few hours spare, LOL!


• Netherlands
24 Jul 08
Yes I have this occaisonally and I found out that it works if you put it down when you feel like it's becoming a drag or you are not enjoying yourself for some other reason. When you get back to it you will appreciate it more if you are able to have taken time off then if you force yourself into it. I have regained my love of braiding hair in that manner, and also my love of doing crafts like making window stickers and even my love for mylot which I've been away from for weeks or possibly months before I got this active again. I'm back in the game, having much more fun not feeling obligated to make a certain amount of responses just to make some hard earned cash and now I will reach payout again and get at least $24,74 as those are my earnings showing for today.

• Australia
25 Jul 08
I have done that with mylot too, found that it became a drag, and couldn't find anything interesting on here, so I took a couple of months off at the start of the year. I do enjoy it again, but I guess I'm not the busiest member here anyway. Hopefully it has worked the same with my art, and I really will enjoy it again one day. Thanks for the advice.

• Netherlands
25 Jul 08
You're welcome, hopefully your passion for fine arts will come back to you again. All the best and have a great day

.

•
24 Jul 08
I went to painting classes,but I found that it was not for me.The classes were water colour classes,and the instructor was very determined that you were going to paint what he wanted you to paint.When I have a hobby I like to have a free hand,and to have someone dictating what you should and should not paint just was not for me.But I find the same with most things,there comes a time when you appreciaite a rest from them,and then maybe later in time you can go back and start afresh.

• Australia
24 Jul 08
Thanks ella1bella, maybe you are right, and now that I have had a long rest from painting, I will now enjoy it more. I agree also with what you say about classes, it wouldn't work for me either if the teacher was dictating what I had to paint. I went to one, years ago, but got nothing out of it. In fact, at the time, my dad said I painted better before I went to the classes! That was the end of that, LOL!

• United States
19 Jul 08
Hi muscare, sorry to hear you lost the love of painting... I never really had a big desire to do anything...pretty sad I know... Why did you start painting in the first place?....maybe if you think back to why you wanted to do it, maybe that will help you get back into it...Were you single when you started painting and then quit because you got married? Just a couple of suggestions for you to think about.... Hugs

• Australia
21 Jul 08
Hi Feona, the reason I took up painting was because there was a show on telly, and it followed an Aussie painter as he travelled around painting. I thought at the time 'that's so cool, I could do that' and I bought the gear I needed and started painting. Sometimes I found it was two or three oclock in the morning when I finished, and didn't even notice time passing! Now, I always find some excuse, like I'm too busy, or haven't got any room to set up, or nothing interesting to paint. Oh well, I guess as you suggest, I should remember the guy that made me start in the first place. Now Feona, I don't think anything about you is too sad....well there is....oh, and that and....oh, and of course.....not to mention that.....Alright, I can't really think of anything, LOL! Thanks for your suggestion...Hugs.

•
19 Jul 08
Tips.....just keep on doing what you love.You may not like it but who knows someone with a real sense of art might find it very interesting

. As for hobbies....mine is cross stitch.There was a point where this hobby of mine became my source of salary.A British couple ask me to stitch design on the cloth they used for card playing....forgive me but i can't remember how they call it.The payment was quite hefty.I became far sighted.

..that's the reason why i stopped from doing it.Without this problem i would still go on doing it.

• Philippines
19 Jul 08

[b]I used to write poems. My head is full of ideas. I think i already write up to 100 poems more or less. When we change to other house i lost it all.

Then i have mental block for almost 1 year. Until now i have not write a single poem. It's not still coming back. I can only write two lines and the idea stop rolling.[/b]


• Australia
19 Jul 08
I hope that ability comes back to you. Maybe we all have a 'muse', and then they desert us for some reason. Your's might have stayed in your other house, or got lost on the way, LOL! Whatever the reason, hopefully we can get back to doing what we love(or use to!).

• Philippines
14 Jul 10
Hi muscare, this post is two years old. Are you painting again?