The Best Driver in Town!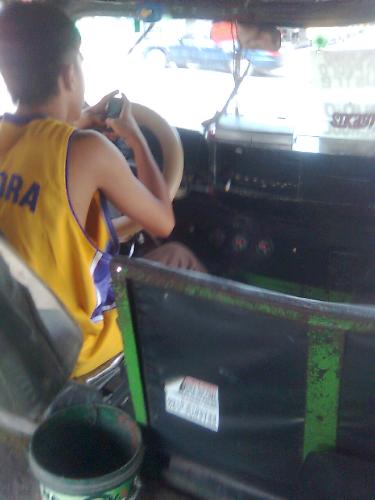 Philippines
July 19, 2008 5:32am CST
I am just kidding. It's the irony of it.

I am up to highlighting this driver who at one time violated almost all rules for public vehicle driving. 1. He was not in the proper attire. In our place, drivers are required to have a uniform, a blue polo. So this driver was wearing loose sando shirt and shorts. Perfect outfit!2. Next, He was texting while driving. Another policy was violated. No texting while driving especially that he has passengers. He would risk our lives. Grrrr. 3. Another point, he was smoking. Our city has an ordinance that smoking in public places is prohibited. Another violation from this great driver. He was puffing smoke while driving. 4. Lastly, he was stopping not in designated areas. Although, the man was not a good driver, I am not saying that he is not a good person. But I just hope he abides by the law.
1 response

• Philippines
21 Jul 08
indeed something to make somebody... GRRRRRRRRR!

I hope he'll be punish for all of his violations, I guess thats the only way to change him. If he'll continue to be like that... He is not just endangering his own life, his passengers lives and also anybody that he'll come across with. That would be really BAD!

Have you tried to text the LTFRB and send them the plate number of the jeepney you have rode on? I usually do this and it's not because I am mad at the person but I am mad at his action.


• Philippines
21 Jul 08
I haven't done that. And I am not sure if I can do that to him. I easily pity people. I know it's not wise to let him do that without be sanctioned. He must be disciplined before accidents may happen. I just can't.

• Philippines
24 Jul 08
If you can't... just text me his plate number and I'll be the one to inform the LTFRB. DO not worry much and if you'll let him go away with his crime, he'll continue to do that and you'll never know if it might endanger the lives of our loveones. It is a form of PREVENTION as I am seeing it in my own point of view. But still, you are the boss of yourself... I am just your kuya who will be untiringly helping you in any possible way I can!