Are you really picky about your furnishings? My house is only half furnished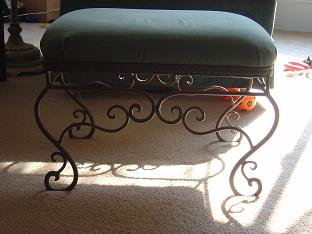 United States
July 19, 2008 9:07am CST
because I won't buy just anything. This is the first house I've ever owned and everything has to be special. Not expensive, just unique and something I really like. Last week I bought this footstool--I've included a picture--for just $12 at a thrift shop and I absolutely love it! It's iron, very sturdy and yet it looks very pretty. I have minimal furniture right now. I use an old laundry table for dining but cover it with a pretty tablecloth, because I can't find the right dining set. I went a year without a footstool because I hadn't found this one yet. I'm glad I waited! Are you picky about your furnishings to the point of doing without or making do until you can find the perfect piece? (that's an orange dog toy behind it--no matter how I try, I just can't seem to train them to pick up their toys!

)
2 responses

• India
20 Jul 08
well we have very little furnishings as well more so because this is companys apartment so i have kept the furniture very simple however i spend quiet some money on my drapes , curtains, table covers, bed linen and i love decorating my house with crstal and flowers and lamp..have a nice day

• United States
20 Jul 08
It's kind of nice to have all the space that's normally taken up with furniture. (I love flowers, too.) I always feel trapped in a house with so much furniture and knicknacks that it has very few big open spaces!

• United States
19 Jul 08
It's a good way to go about it. You should be happy with the things you have and not regret the amount of money you 'wasted' on a piece of furniture. You'll eventually have the perfect collection. Happy hunting;)

• United States
19 Jul 08
Thank you! I'm impatient by nature so it's hard to wait and settle on something that's kind of what I want but not exactly..I manage, though, and I'm always glad I've waited!