How much do you think playing the Joker affected Heath Ledger?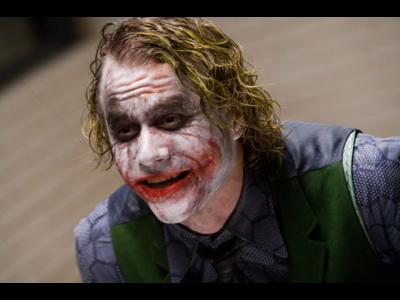 Malaysia
July 19, 2008 11:45am CST
Hey there, I watched the latest Batman movie, Dark Knight and I can say here that I was deeply moved by the villain, Joker. I thought the performance by Ledger as the Joker is frighteningly real. I read somewhere that Heath committed suicide because he got deeply involved playing the role. I do believe he did got affected because to be able to give a performance he had to somehow BE the Joker and it is a very dark character to play. What do you think? P.S. I am sad that we lost a great actor like Heath.
5 responses

• China
19 Jul 08
Oh no,I haven't watched the film yet.I think I need to watch it quickly and then I can answer your question:D

• Malaysia
19 Jul 08
LOL, Mizuki... Obviously, you have to watch it to know what a great performance he did. :D

• China
19 Jul 08
Yes,kusumi.I think it must be splendid!

• Malaysia
19 Jul 08
It is splendid mizuki...:D



• United States
21 Jul 08
According to numerous accounts from different actors this role affected Heath tremendously. It's admirable that he took his work so seriously, but there is a fine line, especially when you have children to consider. His story is such a sad one. I didn't see the movie this weekend, but I'll make it a point to see it next weekend. Honestly, I mainly going to see him because the trailers for the movie just didn't grab me.

• Malaysia
21 Jul 08
I never watch any movie because of the trailers. Believe me, it's a good one. The best this year in my opinion.

• Philippines
20 Jul 08
I watched it last night too. He was soo good. Very convincing. I almost cried at one point, knowing that someone as good an actor as him is no longer around in the industry.

I think he got so into the Joker character. I read something from www.perezhilton.com earlier and Verne Troyer (Mini Me) spoke something about Heath Ledger. Here's the link: http://perezhilton.com/2008-07-16-mini-me-opens-up As for Troyer's co-star, Heath Ledger, in the upcoming The Imaginarium of Doctor Parnassus, the tiny actor has some comments on the situation.
Verne says, "I don't believe that he was troubled. Everyone knew that he had a hard time sleeping and from working in the cold weather in London—we were out in the rain and things like that—so everybody got sick, to a certain extent."
As for Ledger's involvement in The Dark Knight, he adds,
"He couldn't sleep because he was so wrapped up in the character of Joker in Batman. He was still going through not sleeping because he was so involved in that. Throughout our shoot it was the same way. He wasn't, for me, depressed enough to even think about taking his own life. It was an accident, it happened and it's very unfortunate."
Verne even got a tattoo to remember Ledger! Turns out that Verne and his co-star, Lily Cole , got a tattoo made of a heart that Heath had drawn on a piece of paper. Troyer says, "A lot of people from the cast and crew got a tattoo of it somewhere, of that heart, just thinking of Heath and respecting him."

• Malaysia
20 Jul 08
Hey there, seems that a lot of people say that it may not have been because of the role. Well, maybe it's not, I guess. RIP Heath

• India
20 Oct 08
I'm sooo... sorry for coming in so late. But I agree with you completely. The performance of Heath as Joker is really unbelievable.