Who Have You Seen In Concert?

United States
9 responses


• United States
19 Jul 08
I thought Rascal Flatts put on a really good show. What did you think about their concert?

• United States
19 Jul 08
I saw my concert in Nashville. It was awesome. I was on the left side of the stage so close I could see the sweat on Jay's face. Hanging out in Nashville and going to a few clubs afterwards was fun too. We went to Hurricane's, Decades, and Coyote Ugly.

• United States
19 Jul 08
That's awesome! I'd love to go to Coyote Ugly sometime. I think that would be so cool!

• Australia
21 Jul 08
I have only ever been to one concert in my live and that was back in Apr 08 so just over 4 months ago now and I went to see Matchbox 20 and they were just fantastic!!!!!! Would love to go and see them again it was just such a good night I love Rob Thomas :)

• United States
22 Jul 08
Oh I bet that was an awesome concert. I really like Rob Thomas too! Happy MyLotting!

• Australia
22 Jul 08
Oh he really was fantastic :) can't believe how good he was!!!! He sounded just like he does on Cd but you knew that he was really singing and that it was recorded because he was singing away and the mic started cutting out and he was trapping it but honestly he was fantastic if he comes back I am going to see him again for sure!!!! Talking about music how good is that new song by Kid Rock - All Summer Long :)

• United States
22 Jul 08
God.. this will show my age.. black sabbath 2x ozzy osbourne motley crue 79x accept 2x ted nugent 2x kiss 5x bad company ratt triumph iron maiden countless blues artists mountain zz top Dio ok, my brain is frying thinking back now so that is my list but there are tons more..

• United States
22 Jul 08
WOW! Sounds like you have been to some awesome concerts! Thanks for commenting! Happy MyLotting!


• United States
22 Jul 08
I seen them back in the 90's, but I want to go see them when they come to St. Louis in November. My mom took me to see them and my daughter loves their new single, Summertime. I told her that I had seen them in concert and now she keeps telling me, "your mom took you to see New Kids On The Block, so you should take me to see them mom". LOL I'm hoping I can get the money to take her, she'll love it! Thanks for the comment! Happy MyLotting!

• Olney, Illinois
21 Jul 08
ZZ Top (2x) Mama's Boyz (2x) Ratt Twisted Sister Fastway Girlschool Y & T Krokus Honeymoon Suite Blackfoot Sammy Hagar (2x) Motley Crue Whitesnake Dave Matthews Band Herbie Hancock Henry Paul Band Kiss (2x) Outhouse Neil Young Judas Priest Head East M & R Rush Healing Sixes Mad Anthony Express

• United States
21 Jul 08
Wow! You've seen alot of concerts! That's pretty awesome! I know most of them, I bet they were some really good shows! Thanks for commenting! Happy MyLotting!

• United States
21 Jul 08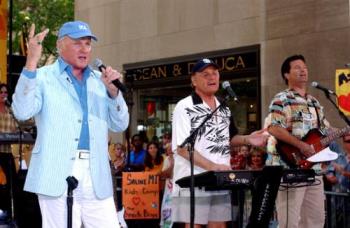 Hi Terri

I have only been to a couple of live concerts. The most memorable concert was to see the Beach Boys many,many years ago. I saw them up in Chicago, IL and it was fantastic. My favorite band, Bon Jovi, is a group I'd love to see, but I'll probably never get to. They never seem to come around here and when they do, the tickets are very expensive.

Have a nice night, Char


• United States
21 Jul 08
Oh wow! I bet the Beach Boys were pretty awesome! Yeah, I'd love to see Bon Jovi too. I think I could use a little "Bad Medicine" right about now! LOL Happy MyLotting!

• United States
12 Aug 08
My list is rather short because I'm very picky, a few on the list are bands I've seen more than once because they put on really great shows. R.E.M. Wilco U2 Radiohead Poe Depeche Mode

• United States
11 Aug 08
I've seen... in order Weird Al Yankovic The (remaining) Monkees New Kids On The Block The Righteous Brothers Kriss Kross Shaggy Rob Base Blake Shelton Buddy Jewel 98 Degrees Jon Secada Nsync And tomorrow I will see Sara Bareilles open for the Counting Crows and Maroon 5!