Have you ever owned a hammock?

United States
July 19, 2008 6:57pm CST
I just saw an ad on ebay that got me to thinking about hammocks. It was actually an ad for a hammock, Have you ever owned one? If so did you like to lay in it a lot? Are they really as strong as they depict on t.v.? Where did you hang yours? The ad I saw had it on a porch, and there were two people in it. I would not mind having one because we live in the country and I think that it would be a very soothing thing to have so that I and my fiance could lay out and enjoy the beautiful weather. Have a Very Wonderfully Lovely Day!
3 responses

• Omagh, Northern Ireland
20 Jul 08
I've always liked the idea of lazing around in a Hammock,but I never lived in a house with a couple of convenient trees,or a deck with posts you could hang one from..My brother's Inlaws have one in their Garden (trees,Natch....)but as I was there for my Brother's Birthday party which they were hosting,I thought it'd be rude to disappear off to try it out! A supermarket nearby had a 1 person version available this summer that came with a frame and the whole thing would fold up...I'm thinking about it..!


• United States
20 Jul 08
I like the idea of it folding up! That would be very nice, and you could take it anywhere. I appreciate your response to me!

• Omagh, Northern Ireland
23 Jul 08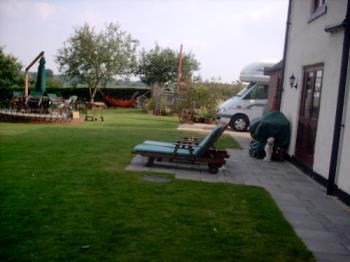 Here's a photo I found of the Garden with the Hammock in the Background!

• United States
23 Jul 08
A very lovely red, and my fiance's very color. I think he would be sold on that one, and would definitely have us searching everywhere for one in that color. Thank you for the picture as I did not know that they came in more then one color (white).

• United States
20 Jul 08
My husband would love a hammock. He doesn't want one that ties to trees. He would like a freestanding one. They can be costly too. I have looked into buying him one and perhaps he will get one next year if I can find one.

• United States
20 Jul 08
I haven't really looked into buying one but I wouldn't doubt that they are pricey! I hope that you can find one less expensive! I appreciate your response!

• United States
20 Jul 08
I used to have a hammock and I really liked lying in it now and then. The one I had had that wood bar at both the top emds where the attatching rope was. That was the only hammock I ever had that was easy to get in and out of. All the others that didn't have those spreader bars would dump you out if you moved wrong lol. Right now, at this place, I don't have two trees close enough to put it up...I knew I shoulda gotten the one with the frame! I'd be enjoying it more! Nothing nicer than lying on it under the trees, or in the cool of the evening gazing at the stars :-)

• United States
20 Jul 08
I was actually thinking about that. I am glad that you had the wood bar one and that it worked, it helps, if I ever buy one I would definitely keep in mind the wooden bars! I appreciate your response, Have a Wonderfully Lovely Day!