Thinking of making a raised flower bed next year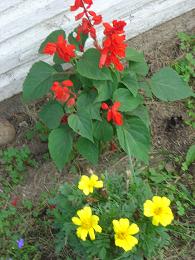 United States
July 20, 2008 7:45am CST
I put some flowers outside my garage and it was a good idea, really brightened up the yard but my dogs love to walk through them and pee all over the flowers and dirt. I was thinking of putting down a double row of concrete blocks next year, filling it with dirt and putting my flowers there. Have any of you done this? If so, was it successful and did it look nice? I'm concerned about settling but at least with the bricks I can easily maintain it. A raised planter would cost a lot since I have no idea how to pour concrete or lay a foundation, as my mom says would have to be done. My goal is to have as many flower areas in my yard as possible, with less grass to mow!
2 responses

• United States
20 Jul 08
I think this would work well for you. I used to watch his show several years ago and always wanted to make a Square Ft Garden. No, I haven't done it yet, but I did buy the book used from Amazon fairly cheap. http://www.squarefootgardening.com/ It is an idea :)

• United States
21 Jul 08
That site must be down right now but thanks so much for the link! I'll check it out a bit later when it's more cooperative. I really appreciate the feedback!


• United States
20 Jul 08
I think that's a great idea. I put in a few raised beds a couple of years ago when I was unable to bend over, and they were terrific. I ended up using a variety of materials for the beds. Our county puts 'retired' telephone poles out for people to cut up and move -- no charge. I hired a couple of people for a day to move them around and get them set up, and they look good and will last forever. I have another that's made out of stacked 2x12s, three high. They are supported by rebar hammered into the ground and held in place by the weight of the dirt inside. Those were the easiest to make. I thought about doing a cinderblock raised bed, but they were much more expensive than my other options and would have been difficult to keep stable over long periods of time. Good luck! They're sooo nice and they're great if you have decreased mobility.

• United States
21 Jul 08
I was hoping someone would contribute some more ideas! Thanks for the suggestions, I have a few months to choose the best way to do it. Cinder blocks was just a first thought, I've always used them for furniture and stuff!