does your dog have doggy dreams and do you wonder what they are dreaming about?

United States
July 20, 2008 10:04pm CST
My dog is upside down paws moving and making little whimpers. She is obviously having a dream. I wonder if she is dreaming about finally getting that cat that sits in front of the window taunting her, or being able to get to the treat box or being able to ride in the car with the window down. What do you think dogs dream about? I wonder if animals can sleep walk?
1 response

• United States
21 Jul 08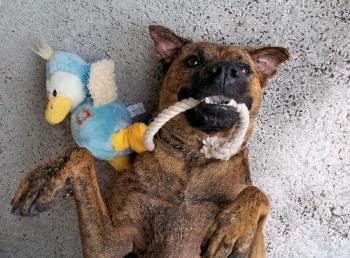 I think my dog dreams sometimes. He will make noises, move his feet, make whimpers, or growl and sometimes he'll even start waging his tail. lol I think it if funny and cute when he does those things.

He sleeps right next to me at night so if hes dreaming i always know in less i am already asleep myself. I wonder what he is dreaming about all the time though.. I wonder if he ever dreams about me actually.

i dream about him! i think he might be dreaming of running around, playing, chasing the ducks, getting spoiled lol but i don't like it when hes crying or when i think hes having a bad dream. I will wake him up from it and give him a kiss, and pet his head till he falls back to sleep.

• United States
21 Jul 08
awwww, I have woken up my dog too when it sounds like a bad dream - just like I would do with a child. I am always careful though, as I know someone who kissed a sleeping dog and got his face munched and some plastic surgery. It wasn't the dogs fault, isn't there a saying let sleeping dogs lie (or is it lay?)

• United States
21 Jul 08
That is probably true and i know a lot of people who wouldn't do it and will probably think i'm stupid for doing it lol but I have no fear of him. I do stuff all the time that makes people look at me like "YOU TRUST HIM ENOUGH TO DO THAT?" lol and its like uh, yeah? He is so sweet and loving. he also sleeps with me and I cuddle up to him and i am ALWAYS giving him kisses. He also knows my touch so I think it is something hes used too