How many dog do you have as pet?

India
July 21, 2008 7:09am CST
i have two,one gaurds our fields and he is Rajapalayam(hunter dog) and another one in my house and he is labrador.
3 responses


• United States
21 Jul 08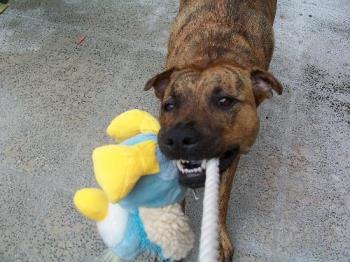 I have one dog right now. He is a pitt mix and he's mixed with gray-hound or labrador. I am not sure...

but he is a beautiful dog. I love his coloring.. it makes him look like a tiger!

He just turned 2 years old on the 13th of this month too. I wouldn't mind having another dog though but sometimes i wonder if i could handle it lol I know i can't afford it right now but maybe some years down the road.. i will get another dog. I think it would just be nice to have two that way he could have another "dog" playmate instead of always playing with me because dogs play different with each other then they do with humans.