You gotta love the animals!

July 21, 2008 8:19am CST
Are you a big animal lover and whats your favourite animal? I personally have 3 dogs but I would have more if I could as I love them all so much! However my home is too small so it wouldn't be fair on them to have more! I love dolphins too and swam with them in Florida which was an amazing experience - do you have an animal that you love or love an animal that you'd like to get close to in it's natural enviroment?
6 responses

• United States
22 Jul 08
i am an animal lover too...that is one reason why i am a vegetarian and against animal testing and into animal rights. i have had mostly dogs and cats and fish as pets...but i would also like to have a rabbit, hamster, ponies are cute, horses are nice, birds are pretty and i feed the wild birds by my house. ducks are nice also. sometimes i feed the ducks at the local park with bread i dont want anymore. dolphins are cute too. although snakes give me the creeps, they are interesting to look at, as long as they are in their box or in a book. it would be cool to get close to wild animals, like lions, tigers, other wildcats, wolves, coyotes, bears, elephants, giraffes, etc, but they are scary. i guess that is why we have zoos. i have ridden on camel and donkey when i went to Greece in the 80s with family. i have been to a bull fight in Mexico in 80. i felt sorry for the bull. animal abuse. i have been to the san diego water park with dolphins and whales and water animals, but i dont remember it...i think it was back in the 80s.

•
24 Jul 08
Yes my husband laughs and says we need a farm as I always talk about which animlas I would like to have around us! I too think some animals sports are cruel like bull fighting. I have been near to a tiger cub and that was amazing but it is nice to see these animals in their own habitat fully and would love to do a safari one day in Africa!

• Singapore
22 Jul 08
oh yes i'll consider myself an animal lover.


though not big enough to become a vegetarian. my favourite animal has got to be cats though wolves come a close second. i like dogs too but the drooling is something that i don't love. whales are also at the top of my list as they are so gentle. i like big animals as they are all so gentle. elephants are another favourite, i've came close to them in a man-made environment several times. you can almost feel the satient being inside them. cheers ;p

•
24 Jul 08
You're right! A lot of the bigger animals are calmer and more placid and elephants just amaze me in how intelligent they are! I have dogs too and they are non drooling type dogs so I don't have that problem! x

• Singapore
24 Jul 08
i've ever spent some time with a french mastiff. it was pretty horrible when he shakes his head. it was a deliberate thing as he knows we don't like it. he kept his saliva in the folds of his mouth and waited till we walk near. then he did the shake-head thing and splattered us with his saliva. nonetheless, i still love him as he is. i've not yet met a dog that doesn't drool. some drool more than others, but even chihuahuas drool a little.



• Jamaica
22 Jul 08
I love animals sooo much! Ever since I was in the sixth grade I knew I wanted to be a marine biologist. I'm so lucky that I live in south Florida, tight in between key west and the Everglades. I volunteer at the Everglades twice a month and help clean up the environment.

•
24 Jul 08
Thats really good - I am glad you have a job that involves hlping the enviroment an the animals! x

• United States
21 Jul 08
I would love to swim with the Dolphins, that would be awesome! I haven't done it yet!


•
24 Jul 08
I've fed a squirrel - there is a park near me where they are really brave and come right up to take the nuts and acorns right out of your hand! They are very cute!! x

• United States
21 Jul 08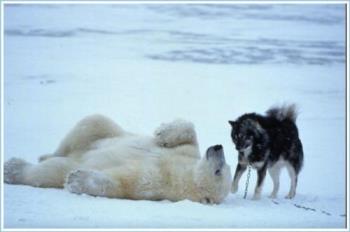 I love all animals. If it's got 4 legs and fur I love it (except for rats or mice) and it would be hard to choose one over another. I guess cats and bears go to the top of my list. I have a dog and two cats who are spoiled rotten and I adore them.