You want to meet my kids?

United States
July 21, 2008 1:44pm CST
I wanted to share something with you all. if you go to Godtube.com you will have the priviledge of seeing 2 of my kids. Today, monday the 21st of july 2008 their video is almost the number one viewed for the day. They are playing and signing with a stryper song call "To Hell with the Devil". It is funny. Watch my son's face as the video goes on. Then come back here and tell me what you think. You can also comment there and they will be able to read it. If you go to that site just do a search for people and look up megaministries under people. Of course i am on there as doubleloveyou. I do hope you enjoy this. Also attached you can see a picture of my youngest son Noah.
4 responses


• United States
21 Jul 08
Look up megaministries and you will see it. Or just hit the video tab at the top and their is now number one for the day.

• United States
21 Jul 08
God Bless them they are adorable. I think Noah has the gift for the drums. I wouldn't be surprised if he was a christian drummer someday. I read the comments some left. I can't believe that some had said that they are cussing and you are teaching them that it is OK. I mean isn't that where the devil resides in hell? I'm sure you have told them that it isn't polite to tell people to go there ... and the devil can go to hell and stay there.

• United States
21 Jul 08

that was GREAT!!! i'm so glad your son got that cymbal fixed before the last hit of the song.


• United States
21 Jul 08
See that is a good musician. Doesn't letan equipment malfunction stop him. :)


• Canada
21 Jul 08
I found it. They are ADORABLE. My son plays drums now, but his are a little bigger since he's 17 and over 6 feet tall. He plays worship at church with the team HunGRy (Hungry for the LORD - shortened from Huntingville Green Ridge Youth). He's been playing almost 4 years. He loves worship and also plays acoustic guitar. He also enjoys playing popular music and some pretty hard rock, but he tries to be careful about content.

• United States
22 Jul 08
That is great. My oldest son plays the drum set, congas, bongos, and keyboards. What is so crazy that he, for the most part, has taught himself to play. It realy is quite crazy to see him. He was practicing last year to be the record holder for the worlds "Fastest Hands" on the congas and bongos. This year he decided to learn how to play the keyboards. Now, I am pretty good at the keyboards. I have played for years. I can truely say he is VERY close to my level already. Sometimes I just sit back and watch him and it blows me a away. I told my wife that at this rate by the end of the year he will have surpassed me.

• Canada
22 Jul 08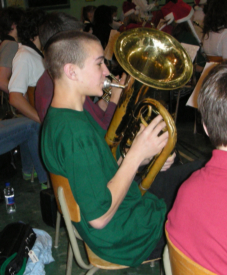 My drummer son is the same way. He can just pick up an instrument and teach himself and be REALLY good at it. My other son has a more mechanical mind so music is harder for him but he likes his baritone (euphonium). He has stuck with it for over two years now and I think he plans to continue.


• United States
21 Jul 08
They did an awesome job. I had never heard that song. Guess I'm getting old.

I'll be sure to check and see if you post more. Or you could tell us. I love GodTube.com!

• United States
22 Jul 08
We plan on adding more videos. I have so many on the camera I just need to transfer them all to digital. There is one video my daughter did I will upload next week. I think she did a WONDERFUL job. I will post here on mylot when I put more up on GodTube