Giving dog a bath

Philippines
8 responses

• Philippines
23 Jul 08
as much as possible i give him a bath everyday so that he would'nt be sick and he feels clean.

• United States
23 Jul 08
Bathing a dog every day is actually really detrimental to a dog. It strips them of the oils in their skin that they NEED. Check with your vet!They best way to keep your dogs skin and coat healthy is to actually BRUSH them daily instead. That brushes out the dirt and brings the natural oils out of the skin naturally into the hair. They will itch less this way. NOW, mind you I am talking about washing with shampoos (good gentle ones) NOT natural getting wet that your dog chooses to do. If your dog wants to run through some water or swim, let him! That is fine as often as he wishes. But real bathing I would recommend only once a month, to be honest.


• Malaysia
23 Jul 08
my pug is with my parents during weekdays, and comes home with me on weekends. I usually bath her either on sat/ sun every weekend. But sometimes I mum think she stinks, and will bath her once during weekday also. But my pug doesn't really like to bath, we have to put her in a pail to make sure she doesn't run away.

• United States
23 Jul 08
I give my dog a bath personally maybe every couple of weeks and that's only if she gets dirty from going to the dog park or dog beach. Then I would say every month-month and a half I take her to the groomers and they give her a really good bath, teeth brushing, nail clipping, the works. I wouldn't give your dog a bath more than once in a week, otherwise it will dry out their coats, at least that's what I've heard.

• United States
23 Jul 08
My nana has a miniature schauzer and she tries to bath it once a week. If she doesn't have the time, she at least gives it a bath once every two weeks. She has some sort of shampoo that's supposed to keep the dog's skin from drying out. My aunt is a dog groomer and purchased it for her. It's pretty nifty if you are like her and like giving your pet a bath more often than every two or three weeks.

• United States
23 Jul 08
I bathe my dog whenever she's nasty or after a haircut -- about once every two months. Bathing a dog weekly is very hard on their skin and can do more damage than good.

• United States
23 Jul 08
I give my dog a bath once every two weeks. But she is a Husky. They don't really get dirty that often and they don't have that "dog" smell. It all depends on the breed. Some need baths more often than others.

• United States
23 Jul 08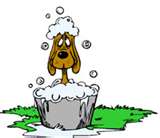 Depends on how often they get dirty or stinky. I give my dogs a bath about every two weeks or so. Don't want to give one too much because it dries their skin out. There is perfume spray for dogs who stink after coming inside and you can get it at most department stores.