Which Mythical Character do you want to see Come to Life?

Singapore
July 23, 2008 10:25am CST
I am always intrigued by Mythical Characters. I always wonder if they do exist but are hiding in a remote part of the world. I also wonder if they did exist before but no longer exist. Mythical Characters would include Witches/Wizards, Vampires, Elves, Siren, Dragons, Phoenixes and etc. (I couldn't think of more now, perhaps you want to help me add to the list)

I am actually torn between Witches/Wizards and Vampires but I think I'll still go for Vampires. I am first interested in Vampires when I watch
Buffy the Vampire Slayer
. I was mesmerized by Angel. Recently, I am watching the anime
Vampire Knights
and the main characters Kaname and Zero (both Vampires) are very cool. P.S I only want those suave looking Vampires (those mentioned above) to come to life. Not those Chinese ones that jump up and down (if you are a Chinese, you know what I mean).

How about you? Which Mythical Character do you want to see Come to Life?
4 responses

• Singapore
23 Jul 08
Does SUn wukong/monkey god consider as mythical characters?? Up till now, i'm still not sure if the character is real or created.. haha.. But still i will wanna see it come to life because it's very agile and sophiscated in a way.. hehe =D As for witches and wizards, it's just the same like bomohs.. hehe.. And vampire?? I will lik eto meet buffy too.. lol

• Singapore
24 Jul 08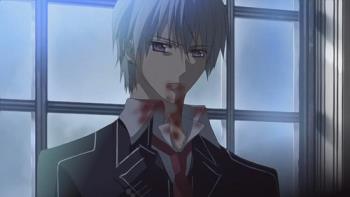 LOL. Yea. Sun wu kong is a fictional character. It's not real. Yea. I prefer Sun wu kong to the rest of the gang. Buffy is a slayer. She kills vampires.. except Angel..

Anyway, I wanted to share this picture of Zero (from Vampire Knights) but I coulnd't post it last night. Hope I can see it here.



• Philippines
23 Jul 08
LoL. I bet you want to get bitten by those good looking vampires? Hehe. Kidding. Well, I'd like to see elves or fairies. I'm talking about female ones, when I was a child, I've always been mesmerized when I see one on the movies. Besides, they are friendly and beautiful creatures, I don't want to risk my life seeing harmful mythical creatures. Hehe.

•
23 Jul 08
Hello poohgal, Of course witches are real but they can't ride on their broomsticks but the mythical crature I would like to come alive ia a Unicorn I love Unicorns and the Elves oh wouldn't that be lovely?I don't care much for vampires. Tamarafireheart.