Any (cyber) gothics around here?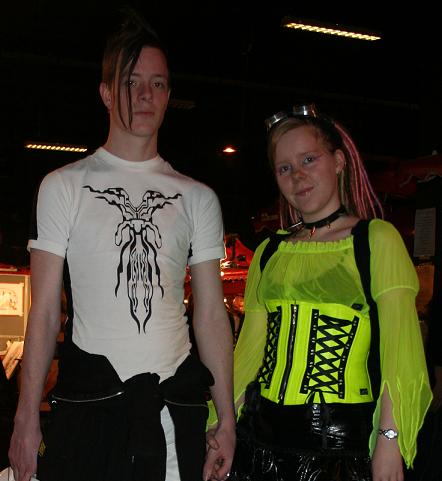 Netherlands
July 23, 2008 12:52pm CST
I couldn't help but notice that there are in fact a few discussions on bands I like and that are somehow related to the cyber gothic scene. Lets start of with trying to give an impression of what that is before I go any further. I hope to not set a stereotype but give some ideas on what cyber gothic can be.
Clothing
: PVC, fluffy fabrics, futuristic outfits, platform boots and shoes
Hair
: Plastics, dreads, wool, etc
Colours
: neon and brights colours mixed with white and or black
Music
: EBM, new wave, synthpop, noise, 80's (the cure) and more
Bands
: Helium Vola, VNV Nation, Blutengel, Infected Mushroom, Goteki, Das Ich, Welle:Erdball, Crüxshadows and many more The kid next door just in a somewhat different outfit; I can't tell you they are all nice people because I don't individually know them all, but there is no need to be scared of these people. They are not satanic and not blooddrinker in 99% of the cases, they just have a different style of clothing and music. Because of my type of studies and work it's not possible to dress like this daily and I don't mind.I like to dress up when I go out though and I see no harm in that. People get scared easily when people look 'dark' but cyber gothics are actually quite brightly dressed and interesting to look at

. I can only say try not to judge a book by it's cover. Do you know the subculture cyber gothic or is it not relevant in your country? Did or do you have prejudges about it? Do you still have them after reading this topic.
1 response

• Australia
2 Feb 09
I didn't even know what a Cybergothic WAS until I met you cyberfluf! I know the of the Gothopotamus though!

Although it's not a style I would embrace myself (and to be honest I'd probably do a double-take if I saw a group of cybergoths walking down the street); I've always believed in an "each to their own" mentality, so more power to ya!

• Netherlands
3 Feb 09
How lovely, I have imparted wisdom here on mylot!


I like the idea of being a unique person aswell, that's also why I make a lot of my own clothing which you obviously know by now. I guess there might not be that many cybers in certain countries

. Aha, and wisdom has been imparted in me aswell!