french fries help you to gain weight..

Philippines
July 24, 2008 3:14am CST
hi guys, i just want to share some info about French fries specially to those who really love to eat it.french fries help us to gain weight because its made of potato and potato is rich in carbohydrates. so just a little piece of advice do not eat too much of this. a little. will help but not too much..:)
7 responses

• Japan
24 Jul 08
Hello babyboo23! Welcome to myLot! I agree with you. (I believe everybody will agree with you.) I myself don't each too much fries... its not in my faves list actually. In addition to the carbs it has, fries contain tons of oil! I really mean TONS! I have read before that the weight of oil in one fry is greter than the weight of the starch it has. Carbs plus oil is a no no. It like putting garbage in your body.

• India
24 Jul 08
u r right, but i really need it. I am too skinny!!!!

• Philippines
24 Jul 08
hi there it will really help you to gain weight specially when you dip it in mayonnaise..:)..


• India
24 Jul 08
Gaining weight by carbs alone is unhealthy. You need a good amount of protein which potatoes do not have. But then, aren't we all a little too fond of french fries to care?


•
24 Jul 08
Too much of anything will make you put weight on ,so take it easy on all counts

• Craig, Alaska
24 Jul 08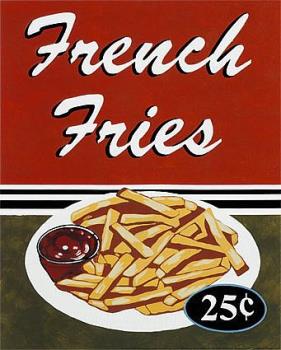 Everyone should know this. we eat them cause their good. but yes people should watch how much they eat fries, because of the fact all that grease they have can build up in your body and you could get the problem of high cholesterol. to many carbs can turn into sugar too.