Pregnant Man Gives Birth!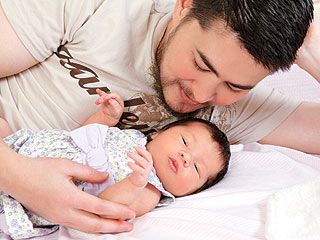 Singapore
July 24, 2008 3:53am CST
The first transman had given birth to his/her baby girl! Beatie had made cultural history as the first legal transman to have become pregnant and give birth to a healthy baby girl. Both father and the baby girl came through the birth in perfect health! (Pictures attached). It's a miracle that a man could have became pregnant and give birth to a healthy baby! The first pregnant man in cultural history!Discuss=)
4 responses

• Philippines
24 Jul 08
I'm speechless. But the baby is cute. They looked good together. What can I say? I'm really surprised that men can now give birth to a baby. And what's next?


• Philippines
24 Jul 08
Oh my is this true??

Well, years ago, who would have thought this can actually be done. In fact, Arnold Z. even came up with a movie called "Junior" running around the same story. This is incredible. Hopefully, the child will grow up to be normal despite the environment within the father's tummy. Imagine, literally calling your dad, "Mommy!"


• India
24 Jul 08
Ah the world gets weirder by the day. Well as long as it doesn't harm anyone, such a thing should be fine..

• Singapore
24 Jul 08
It does gets weirder each day doesn't it? I agree that to each their own, everybody has their own personal choices and decisions to make when it comes down to their own personal life. As such, we can only discuss on controversy issues that gets our interest, but we can't be judgemental about people. But, isn't his baby girl soooo... cute!? Aww..


• India
24 Jul 08
I hard that he was feamale by birth. later he changed his identity to become a man from women. And married too with a girl. That lady had some problem to give birth to a baby. So he did it. Its only because his body still contain some of women's parts. Nothing special in that to make issues.

• Singapore
24 Jul 08
Yes, I agree with you that there's nothing special in this. Just thought of sharing this news with people and discussing what other Myloters feel about this issue =) Anyway, I had mentioned too... that he is the first transman to have make cultural history.

• India
25 Jul 08
Hi , Thanks for marking my response as best response. Happy posting!!!