Where to start!!!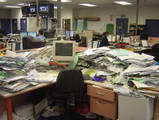 United States
July 25, 2008 2:11pm CST
Do you ever have sooo much to do you don't know where to start? I try to keep every thing in order of importaince on my desk but some times I get so much on my desk I don't know where to start. When it gets to that point I start at the top of the pile and just go. When I don't have too much to do I will put things together like every thing that needs to be billed, every thing that needs to be ordered, every thing that needs to be mailed and so on. Right now my desk has three piles - Its Friday afternoon about an hour before quiting time. I have nothing pressing that has to be done today so I think I'm gonna sort through every thing so I am more prepaired on Monday. Anyway - Where do you start??? Is your desk a mess? Is it an organized mess? If some one asked you where some thing was could you tell them??
3 responses

• Australia
26 Jul 08
LOL ... I work at home, so I not only look at my desk, but at the messy house beyond. Sometimes I don't even know where to start, and it gets so overwhelming that I don't start at all! When I used to work in an office, I used to sort everything into piles of similar items, and clip them or pigeon hole them, so at least I could do one task at a time. Then I'd approach each pile individually. Now I look at my desk at home and I see orders, contact information, my car rego paperwork, a couple of abstract fingerpaintings, a half eaten banana (not mine! glad I looked - that's getting binned), a tambourine, a toy lion, a hair elastic, my phone and a hole punch. I really need a separate office!

• United States
28 Jul 08
I don't even like looking at my home desk! Its makes me crazy! I couldn't even begin to name every thing on it. From the bills to the batterires sitting here I wouldnt know where to start on organizing my desk. Worst part is my husband uses it too - need I say more?!

• United States
26 Jul 08
I keep things organized and nothing it just thrown on my desk it is clear at all times. If I have bills and papers I needs to go through I will simply put them out on my desk write out the checks for those bills that have to go out and set them aside to be mailed out. There is nothing more that drives me crazy than haveing things disorganized. I have some friends that their desks are just covered with all sorts of stuff mixed in together on their desks and it makes me wonder how they know where to start or what they can evn find in a mess like that. Organization and keeping things neat is the way to go in my book.



• United States
25 Jul 08
I work from home. So sometimes my desk gets a bit out of control. My daughter wants to draw. She borrows a pencil. My hubby comes in to fix something for me. Leaves a soda can. I start by organizing my work, papers etc. The put other stuff back where it should go.