I don't like tube top. Do you?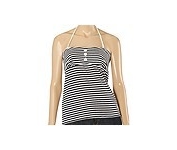 July 25, 2008 9:10pm CST
Well, it is not that I don't like the clothe, I just don't like to wear them. I am a very conservative woman and I find tube top to be revealing. It shows your shoulder which I think is improper because it might invites some men to look at your body. This is only my opinion. Do you agree or not? Who among you don't like or like tube top? Why?
8 responses

• Philippines
26 Jul 08
i seldom wear tube tops... at home, yes, but if i have to go somewhere else-- no. if i wear a tube top, i wear it with a jacket or a bolero on it.


• United States
26 Jul 08
it bothers me to see girls wearing them because i'm always afraid it's going to slide down on them. but they don't seem to mind it. and they don't consult me about it. :D

• Philippines
26 Jul 08
I am not a girl but I don't want to see girls wearing tube top. My sister also don't want to have that kind of clothes. I agree that it is quite revealing, adding to the fact that it might go down to their body.





• United States
28 Jul 08
I wear tube tops but what i do is get a cute little jacket that will go along with it. I have a bunch of those half jackets in all different colors and i wear them when i do wear a tube top so my shoulders are not showing. I think they are comfy and i do get them a little tighter to make sure they don't fall down.