Concerts/ Live Music

United States
July 26, 2008 10:53am CST
Recently I was able to attend the Billy Joel Concert at Shea Stadium. I've been to only a few concerts in my life, like 10 or so, and must say what a great show! He was amazing he had awesome guests, the whole crowd vibe was amazing. Paul McCartney came out and closed with Let it Be! It was amazing. What is the best concert you have ever been too, what memories stick out with you the most?
3 responses

•
26 Jul 08
Hi there kaytee717 I went to see UB40 in New Jersey somewhere I can't remember where but it was the best concert I have been to even though they weren't my favourite band at the time and are not now but it was a good night all the same.

• United States
26 Jul 08
Same here with Billy Joel, it was just a good night :-)

•
26 Jul 08
Hi kaytee717, That must be really fantastic, I like Billy Joel and Sir Paul McCartney, you are very lucky to see Sir Paul and have never seen him, I was one of those Beatles mad yougters. I have seen Sir Cliff Richard many times in concerts and also had his autograph. Tamara

• United States
27 Jul 08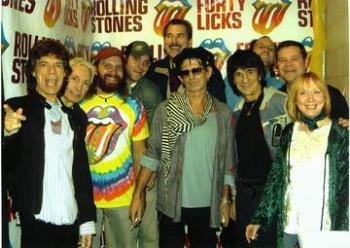 I've been to many concerts in my life. I won most of the tickets from a radio station. But the best concert I ever saw was The Rolling Stones. I won front row tickets AND backstage "Meet and Greet" with the guys! It was totally awesome!!! The concert itself was awesome. They played in the front of the stadium, then walked along a catwalk to the middle of the stadium and continued playing there. NO ONE sat down during the entire concert! Meeting them was a thrill I'll never forget. They were so nice! Well, Mick was more business-like, but the others were very friendly. I got a hug from Keith and Ron!!! Here's a picture of us (I'm the short one on the right LOL). Yep, that's Ron's hand on my shoulder.

• United States
28 Jul 08
Look at you, how great is that! I gotta get to see a Stones and U2 concert! I won front row tickets to a basketball game from the radio once , lol ! What a great time that must have been!

• United States
28 Jul 08
One of these days I'll upload the pictures I took of the guys walking up the catwalk. I took a lot of pictures of the concert, but with the lighting the way it was, most of them just didn't turn out. But yeah, it's an experience I'll never forget! P.S. They're a lot shorter than I thought they were! I believe Mick is the tallest at about 5'8". And, to answer another question that a lot of people have asked me, they're much uglier in person! LOL

• United States
29 Jul 08
For those that may not know...Mick turned 65 today and Keith will be 65 within a few months (even though he already LQQKS 75)! Mental...bet there is one person you'd like to 'x' out of the Stones pic...