Obama's Trip: No Bounce, No Flags, No Wounded Soldiers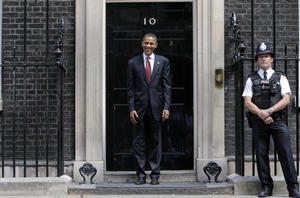 United States
July 28, 2008 5:34am CST
I find this to be really hard to understand. Can anyone explain to me why these actions should be excluded from his trip?Sen. Barack Obama's international globe-hopping to the Mideast and Europe was meant to burnish his credentials as a foreign policy and potential military leader – the strong suit of his Republican rival Sen. John McCain. As crowds cheered Obama globally, Americans here on the homefront were left wondering if the Illinois senator wants to be their president -- or the president of some other country. [And whether the major U.S. media would at least offer the pretense of objectivity. An MSNBC poll from last week found that 47 percent of the public thought the coverage of Obama's trip was "excessive."] Obama's speech to the Germans left much to be desired, from an American's perspective. For starters, the crowd's size was beefed up by the fact that the event was billed as a free rock concert for German citizens, with popular musical performers helping to draw the big crowd. Scant U.S. media even noted the warm-up rock draws of reggae artist Patrice and rock band Reamonn. Then there was the simple stage, with the podium surrounded by three potted plants. Missing was the American flag -- nowhere to be seen. Perhaps Obama's staff might consider the U.S. flag offensive. And then there was his speech, in which he proudly proclaimed he was in Germany as a "a fellow citizen of the world." And there was the spectacle of the presidential wannabe going to a foreign land to apologize about the United States. Obama told his German audience he was sorry about his country because "I know my country has not perfected itself." [This comment was made in the former seat of Nazi power. A letter to editor published in Obama's hometown Chicago Tribune noted the irony: "While America may not be perfect, there is no reason to apologize to the Germans, architects of the Holocaust."] As for America's role in saving Germany from the onslaught of Stalinist communism and the subsequent Cold War, there was nothing. There was a rhetorical flourish about the Berlin Wall coming down, but nothing about the great American sacrifice, not to mention how our military might made President Reagan's call -- "Tear down this wall, Mr. Gorbachev" -- a reality. As Boston Globe columnist Jeff Jacoby wrote, "Obama seemed to go out of his way not to say plainly that what saved Berlin in that dark time was America's military might. "Save for a solitary reference to 'the first American plane,' he never described one of the greatest American operations of the postwar period as an American operation at all. He spoke only of 'the airlift,' 'the planes,' 'those pilots.' Perhaps their American identity wasn't something he cared to stress amid all his 'people of the world' salutations and talk of 'global citizenship.'" The Hollywood-staged Obama event for a man who has yet to ascend to the presidency didn't sit well with all the Germans. Germany's Stern magazine carried the headline "Barack Kant Saves the World." One of their columnists, Florian Güssgen, wrote: "The man is perfect, impeccable, slick. Almost too slick … Obama's speech was often vague, sometimes banal and more reminiscent of John Lennon's feel good song 'Imagine' than of a foreign policy agenda." Slickness without substance seemed to be the enduring theme of his trip. Among the little hiccups covered up by the major media, there were several gaffes on the global coronation trip. Perhaps the most notable -- and reprehensible -- was Obama's decision to cancel a visit to wounded American soldiers at Landstuhl Regional Medical Center in southern Germany. Apparently, the Pentagon informed Obama that since his visit was a political one, the hospital visit would be only open to him and his official Senate staff. This excluded the press and campaign officials. The Pentagon did offer to allow Obama's campaign plane to land at the nearby U.S. air base at Ramstein. The media also was to be accommodated there. Without the photo opportunity and his press entourage, Obama declined to meet the wounded soldiers. At first, Obama's campaign claimed to the press he decided to cancel the trip to visit the troops because it was "a trip funded by the campaign," and therefore somehow inappropriate. [What is inappropriate about a presidential candidate visiting wounded troops?] But the Obama story belies the fact it was only after the Pentagon closed the event to his traveling press, that Obama's campaign nixed the event. Rightfully, McCain noted that it is never inappropriate for a candidate or official to visit U.S. troops. "If I had been told by the Pentagon that I couldn't visit those troops, and I was there and wanted to be there, I guarantee you, there would have been a seismic event," McCain said. McCain continued the attack on ABC News Sunday show "This Week": "Those troops would have loved to see him, and I know of no Pentagon regulation that would've prevented him from going there" without the news media. The McCain campaign has been quick to pounce on Obama's obvious slight to the troops and double-talk, airing a new commercial this weekend. "And now, he made time to go to the gym, but canceled a visit with wounded troops," the ad says. "Seems the Pentagon wouldn't allow him to bring cameras. John McCain is always there for our troops." McCain added that Obama "certainly found time to do other things." One of those other things Obama did was visit Paris and hold a joint press conference with French President Nicolas Sarkozy, typical of an American president visiting the French capital. Interestingly, The New York Times quoted Elysee officials that "Obama aides insisted that an American flag not be displayed alongside the French flag because Mr. Obama is only a visiting senator and not the president." There is no protocol preventing an American official from having the flag displayed when abroad. America snubbed once again by a lame excuse. http://www.newsmax.com/headlines/obama_mccain_berlin/2008/07/27/116772.html?s=al&promo_code=66AC-1
10 responses

• United States
28 Jul 08
I got so mad just reading this I am with out words to say how I feel!Now I think Mc Cain needs to go and visit the troops and wave that American flag every where he goes! . Can we start calling him Slick Obama like Slick Willie? HE dont need to appalogize for us for we dont need to apolgize for anything! how can the people here still fvote for someone like this!

• United States
28 Jul 08
Thank you Lakota...wow I really felt just how mad you were and believe me I felt exactly the same!

• United States
28 Jul 08
Good post, I find nothing really that I disagree with. Senator Obama had a chance during this world tour to boost himself to nearly unbeatable status, but instead, I believe he has left himself vulnerable. However, the news media has done their reporting and most of the coverage is over, so many of the things you pointed out here will never make it to the American public.

• United States
28 Jul 08
At least I am trying to reach a few of the American public by revealing this article.

• United States
28 Jul 08
Excellent post. I can't wait to see the minions of Obama try to defend this one. With a post this well worded I'm sure that aside from 2 or 3 people, most Obama fans will avoid this and just pretend that it's all a lie. The messiah can do no wrong. I just love the way Obama tried to spin the wounded soldiers issue by implying that the pentagon didn't want him there, when in reality, they just didn't want his media circus there. Why was it ok for him to put soldiers in the middle of his campaign in Iraq and Afghanistan, but suddenly not in a hospital in Germany? He didn't mind visiting other hospitals when the media was allowed to accompany him. Quite simply, if the media can't come, he doesn't want to be there. Everything he does must be caught on camera. Otherwise, he's afraid it won't get enough press and it's just better to go to the gym instead. We know that always gets enough press. I didn't know about his failure to display an American flag. That's certainly an interesting bit of information that the media seemed to leave out. Makes me wonder if he's proud to be an American yet.

• United States
28 Jul 08
Thanks for your response and I agree it will all just be lies. My best friend is German and she said too that the free rock band show was the lure that drew so many people. I do not expect too many responses to this discussion but to me as long as I can get this information out there that our Obama loving media tries to hide then I am happy.


• United States
28 Jul 08
You are mistaken. He implied that he was told he could not visit the soldiers. The truth is that he was told that he could not use the soldiers as a political event. That meant that he could visit them, but it would have to be alone without the cameras, news anchors, and the circus that had been following him on his trip. He then decided to cancel the whole event and acted as though the pentagon didn't want him to visit the wounded soldiers.

• United States
28 Jul 08
Taskr36 you are so right!!

• United States
7 Aug 08
If you were there , how could you not go visit the soldiers? I cant think of anything more important and how did that make them feel? They are well aware of the decision that was made. That is callous and rude as far as I am concerned.

• United States
28 Jul 08
Thanks for posting this. I was not at all surprised that Obama refused to visit the wounded if he couldn't have the photo op. Nor am I surprised that he didn't have an American flag or that he seems to be trying to tell the world he already represents Americans. Not this American, he doesn't!

• United States
28 Jul 08
Not this American either. I am just glad that I still have close ties with my Germans friends and every chance I get I raise my little voice to educate them on my understanding of the real Obama.

• United States
28 Jul 08
I swore I was not going to answer another Obama discussion because I was so heartily sick of that man. But this one just calls out for an answer. I have never considered it right that Obama made this into such a big deal. He does not have the right to represent Americans or American opinion especially because he is a candidate for President. I look upon this entire trip as a ploy to win votes and quite frankly he is not doing well in that respect. Somehow he has managed to pervert everything America stands for and snub as well as disgrace our troops. It looks to me like he is attempting to subvert this election and God help this country if he does manage to do it. Ever since he has started his campaign he hasn't been able to hold an opinion long enough for it to make it to the newspapers. Besides that he shows a marked indifference to what this country stands for and most assuredly hasn't got a clue about patriotism. I do hope I can count on the American public to show some sort of smarts in the upcoming election.

• United States
28 Jul 08
Thank you for your (albeit unwilling) response but I am so pleased you decided to go ahead and respond. As far as counting on the American public to show some sort of smarts in the upcoming election. I pray that happens because to be perfectly honest I am truly afraid of what will happen if they do not. BTW have you noticed that (so far) not one Obamaniac has responded to deny the validity of the article!

• United States
29 Jul 08
Great post. I'm surprised that the oHbamites aren't here defending against your "Attack" on their guy. They usually don't need any other reason except that "you Are a Racist". I Also heard that OBi's crew placed campaign signs on the The Wailing Wall in Jerusalem. And that he was chased out by hecklers yelling "The wall isn't for sale Obama". But then I never heard any more about it. Wonder why. I can't seem to find that video on YT either. Actually, Leave it to the sweetness and light blog. Here are pictures. http://sweetness-light.com/archive/obama-campaigned-at-western-wall All the other stories are focused on how his note was "stolen" and published. I'm sure they didn't plan THAT. And let's not forget, this guy isn't Even The Candidate!!!! He's the PreSumptive CandIdate.!?!?!? VerY PreSumptive, Probably the Most Presumptive candidate i've ever seen.

• United States
29 Jul 08
If you were interested in getting the "truth out there", you would have stated that immediately before Obama said he was a citizen of the world he said, " I am here as a PROUD citizen of the United States, and as a. . ." that is where your part of the quote comes in. I see others have pointed out that McCain has no flag when he speaks in other countries either, as that would imply his speech was directed to Americans, only. Also, you could not possibly have missed the fact that Obama was advised not to visit the wounded, because it would exploit them for political gain. McCain knows that, and so do you. Nothing like a little spin, to sway the uninformed. Glad conservatives are such a moral bunch.

• United States
29 Jul 08
Thank You. Spoken like a true Obamaniac.

• United States
29 Jul 08
You know what, I wish there was a way for me to send a copy of this post to an uncle of mine. He's one of those Obamaites who needs to be shaken into reality. My husband and I were talking Sunday about the election and who he'd planned on voting for. He said he's just going to follow my lead this year because he hasn't been following things much. He also said that given the fact that there are so many in the African-American community that are actually against Obama for President that maybe he should pay attention more. He said the fact that I'm completely against him for President says a lot. My view is this, had Obama been a White man he never would have made it nearly as far as he has in this election. Which sickens me to no end. He's riding that race card and I want to choke him for it. In no way do I ever want to be associated with someone like him, even if it is only on a racial level. Being associated with Obama for me is similar to Germans being associated with Hitler. It's something that'll take several lifetimes to get over and is an embarssment that no one wants.

• United States
29 Jul 08
devilsangel I agree with you 100% on each of your points. I also have a problem with my best friend who is an Obamaite/Obamaniac. I think I am slowly (very slowly) chipping away at her blind belief in this man. Actually I think she secretly believes that if Obama was white he would never have gotten a second look never mind the nomination. The more he denies using the race card the more I am convinced he is.

• United States
7 Aug 08
I don't get how everything to do with Obama seems to get swept under the carpet. I seriously doubt the people who are so committed to him even get what a complete counterdiction he is to what he says he is. The man thinks he's been decended from heaven to save us. I think he's actually trying to run for president of the entire world. What on earth is he thinking when he does these things and even more importantly what are the people who actually eat his bull for breakfast thinking??? Thank you for doing all you can to bring the truth into the open. I have faith that the American people will wise up before going to the polls because this man has no right to be president of the United States and I'm not comfortable at all with him being in any government office at all.

• United States
7 Aug 08
You said "I think he's actually trying to run for president of the entire world." I agree with you 100%. Unforunately his ego is a lot bigger than his so called qualifications. I look for someone who can lead my country and he does not qualify.