My little pony or care bears?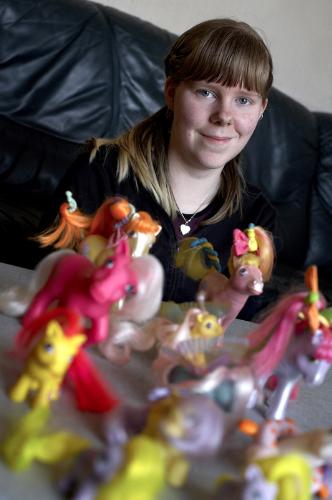 Netherlands
July 29, 2008 1:33pm CST
I know there are a lot of people out there that collect both but most have a bigger passion for one of the two series of collectables. I think care bears are very cute but basicly I'm a my little pony girl and I have been collecting them for years now. I actually got a spread about it in the college newspaper and a photographer came over, it was a topic about 'uncommon collections'. It was a lot of fun to do and share with other people. I added the photo they took below. I'm found on www.mlparena.com quite often, lately I haven't been on so much because I've been more active on mylot, other sites, work, spending time with my boyfriend and sewing and customizing clothing. We only have 24 hours in a day, right?

. My preference comes from great childhood memories, the fact I like horses a lot and I enjoyed the cartoons on television a lot. Which one do you prefer and why?
4 responses

• Canada
27 Apr 09
I am definitely more into My Little Pony. I had many of them as a child and loved them. As I got older they got set aside and I moved onto other things. When I had my daughter she developed a love for horses and she became interested in ponies around the age of 3, she has never been one for girly things but she is crazy about her ponies. From then on we have amassed a fairly large collection of ponies. I have lost count, but am safe in saying 380 or more, some of these were mine as a child. She loves both the old and the new while I prefer the older ones. My daughter is now almost 11 and when she has friends over they are just amazed at her collection. Most know that she has it, but I don't think they are aware of the extent. We do have a small collection of 80's carebears ( the little plush ones), but they have never grabbed our interest as much as the ponies.

• Netherlands
27 Apr 09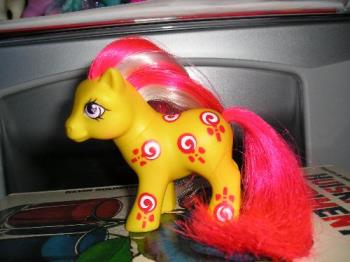 I fully agree. I have one or two 80's plush care bears but I am looking to trade them for my little pony items or sell them. They are nice, but they never caught my interest like the my little ponies did. I have been collecting ever since I was a kid and I never stopped collecting. I have lost count aswell but I think I am somewhere near 300+ (just ponies, I love collecting items like books, videos and such aswell). I even have a life guard vest for kids and crazy MLP items like that. They allways make my day

.

• Canada
27 Apr 09
The lifeguard vest sounds really neat. We have a few DVD's of the older movies as well as the video for Firefly's Adventure. My daughter and neices love to watch them. I love all the extra merchandise they use to have, but never seem to find much of it. I did find a TAF Merriweather bubble bath container at a yard sale once.

• Netherlands
24 Jun 09
Merriweather is a gorgeous pony, a bubble bath containing of her sounds really cool! Congrats on finding it

.

•
29 Jul 08
Hi Cyberfluf, Oh my girls both loved My Little Ponies, my eldest more the Care Bears. I have a whole suitcase full of them and all th bits in the loft as they don't want to part with them. I alos have a Care Bears and My little Pony video collection too LOL. They are so cute and I don't mind wathcing them sometimes when they have one of there reminising moments. Ellie :D

• Netherlands
29 Jul 08
Thankt a lot for your response Ellie

. I can imagine parting with certain child hood toys is hard, most of mine are in my my little pony collection as I still collect them so it's not that noticable but I think it's sweet they keep them. Thanks a lot for the compliment on the photograph aswell, I can't even remember I had my own haircolour back then! LOL! It's been dyed so many times in my life in different colours it was odd to see my own colour again.

• Philippines
21 Mar 09
Hello cyberfluff. Im more into my little pony. Ive been collecting them ever since I was a kid. I use to watch the cartoons. They are my favorite.

• Netherlands
27 Apr 09
Thank you for your response, Ericajoyce. It is allways lovely to meet a fellow collector. The cartoons are a lot of fun, I have to agree on that one. Once they came out on DVD I bought them all to make sure I would be able to store them savely. I have watched the VHS tapes so many times that they are not working properly anymore!

• Malaysia
27 Aug 08
definitely my little pony ^_^ u r right, a lots of great childhood memories, i love it becoz they hav really nice hair ^_^ u collect them? wah, i ll collect them if it's selling in Malaysia ^_^

• Netherlands
22 Mar 09
Yes, I do collect them. But the ones I collect do no longer sell, they were sold during the 80's and 90's. There are still my little ponies on sale but those are the new generation ponies. They are definatly cute and I agree the have lovely soft and silky hair. Thanks for responding ^_^