My kittens has blue eyes

United States
July 30, 2008 3:30am CST
I did do research and find most kittens do have blue but eyes color change when they get older. I have golden brown with black. They have teeth now and eating solid I believe. I was told that they are about 1 to 2 months old. I am not sure what kind breed that I have. I am adding pictures for you to see. Do you have cats that have blue or other different colors.
3 responses

• United States
30 Jul 08
You forgot the picture. My kitties have green eyes they have had green eyes since they were born. They are both grey tiger stripped kitties with some calico color in them and they are from the same litter. They are 7 months old today.

• United States
17 Aug 08
I tried add the pictures but it disappeared and it is different picture.. so I don't know how do it. My two kittens eye colors had changed. One of them have green and another one hazel or blue something..


• United States
31 Jul 08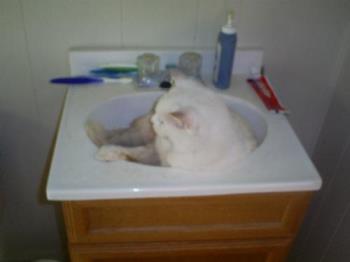 Our cat Wilbur is solid white but he has blue eyes. :) He also has pink ears LOL!! He was an adult when we got him.