"Sun Eating" Dragon returns to China after 4000 years!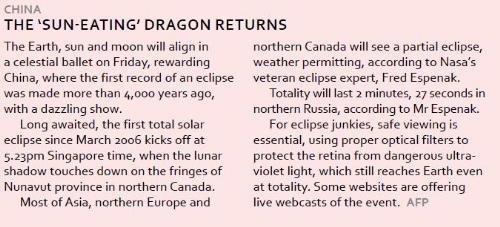 Singapore
July 30, 2008 3:48am CST
It seems that the eclipse this year will occur in China.

A phenomenon that is only witness once every 4000 years. And it is happening in China this year! And it so happens that China is the one hosting the Olympics this year as well.

Seems like a lot is going on for China this year. Heh heh...

Are you going out this Friday to see the eclipse? Are you going to catch this once in a life time phenomenon?
2 responses

• Singapore
30 Jul 08
wow i sure envy the chinese in china. not only do they get to be part of the olympics fever, they also get to watch the eclipse! i think there was a partial eclipse in singapore when i was very young. it was a really big thing then and there was a big hoo-ha about the correct way of watching it. if someone stare directly at the sun during the eclipse, they'll go blind. i wish i'll have the chance to see a full eclipse in my lifetime. cheers ;p

• Singapore
31 Jul 08
Ha ha ha ha ha... I too have not been able to catch the eclipse the last time it was seen here. I sure hope I too can see one. Looking forward to Friday to see if can catch the partial or not. Like I mentioned, China is having everything going for them this year!


• Singapore
31 Jul 08
it's this friday the 1st of august? any idea what time the eclipse will start? i'll be on an airplane in the morning. flying off to bangkok for a holiday. wonder if i'll manage to catch it there. afterall, it's nearer to china.


think i better check out the precautions to take. i've only got my sunglasses with me but i don't think it's good enough. don't want to go blind staring at the sun.


• Singapore
1 Aug 08
I am sure you will be able to catch it. For all you know, you will catch it while you are in the air!

I do not know what time it will happen. There is no report of it in the papers so far. I am not sure about today's papers. Well, other than the sun glasses, you can try peeping at it through a pin hole in a piece of cardboard or thick paper. It should work as well. Going on holiday? So shiok!


• Singapore
31 Jul 08
i didn't even know about this! haha, been quite out of the loop of news lately. well there were a lot of hard times that china had to go through this year as well. I don't think I'll be going out to catch the eclipse. I don't even know what time it's happening. but thanks for the interesting information!

• Singapore
1 Aug 08
I too do not know the time it will be happening. In fact, there have been no reports in the papers thus far. I do not know if it is in today's papers. Yet to get the chance to read it yet. It would be nice if we can view it. Something interesting like that rarely happens you know.