My city has a nickname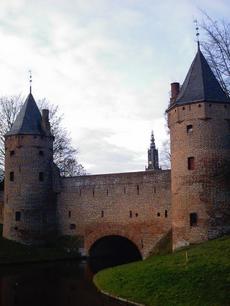 Netherlands
July 30, 2008 9:41am CST
Hello my friends here on mylot. I just read about my city(Amersfoort, Netherlands) and how it got his nickname and i was wondering who many cities around the world have a nickname. Knowing that mylot is a international site i thougt why don't i ask here on mylot. You can read how my city got his nickname at the bottom, can you tell me if your city or town has a nickname? How my city got his nickname! My city is called Boulder-city, it orginates form the Amersfoortse kei, a 9 tonne (19,842 lb) boulder that's dragged from the Soest moors in to the city in 1661 by 400 people because of a bet between to landowners. The people got there reward when their bought everyone beer and pretzels. Other nearby towns then nicknamed the people of Amersfoort kei-hoofd(boulder-head). This story embarrassed the inhabitants, and they buried the boulder in the city, but after it was found again 1903 it was placed in a prominent spot as a monument.
5 responses

• United States
30 Jul 08
I live in New York and my city is often referred to as The Big Apple, The Empire State, it acquired its nickname "Empire State" to recognize its vast wealth and variety of resources. Various accounts have traced the "Big Apple" expression to Depression-Era sidewalk apple vendors, a Harlem night club, and a popular 1930s dance known as the "Big Apple." One fanciful version even links the name with a notorious 19th-century procuress!

• United States
30 Jul 08
Chicago...the WINDY CITY, given because the proximity of lake michigan being near by makes Chicago rather breezy, also because after the Chicago Fire, the city was rebuilt with man made wind tunnels in high denisty areas, such as the LOOP, as the wind could travel down the columns and rows formed by the buildings and pick up speed, however, Chicago is not noted to be significantly windier than any other U.S city.

• India
30 Jul 08
Hello,Jody!Thename of my city is Bhubaneswar,capital city of a state of India.it is also known as the Temples city as more then a thousand of temples are built in different parts of the city.It is also a tourists spot.many a foreigners come every year for a visit.thanx.

• China
30 Jul 08
In China, I know a few cities getting nicknames. For example, Kunming has a nickname, that is the Spring City because the climate in Kunming is always like spring. Another city, Chongqing, her nickname is the Fog city because she is in a bason region and often is foggy. I like your post, very interesting. Thank you.

• United States
30 Jul 08
Sioux City has a nickname as well its called sewer city for because thats what you smell the first thing you arrive and the economy has always sucked here.