Do You Think He'll Make It?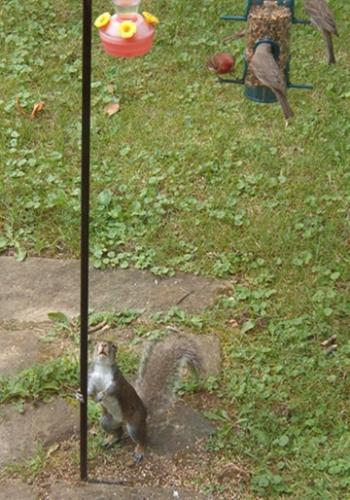 United States
July 30, 2008 5:38pm CST
I've had these bird feeders up for a couple of weeks now and I wondered why the squirrels haven't been around and bothering them. Finally a few days ago, one little fella decided to come check them out. I've got several shots of him and his antics, but this one is really cute. He seems to be looking up and trying to figure out just how those guys got up there. Do the squirrels bother your bird feeders?
5 responses

• United States
30 Jul 08
No, because I dont feed the birds in the summertime. There is plenty of food for them in the summer. I just put up my feeders when it gets cold out and there are not so many opportunties to get food. I like to watch the birds but I think it's better if they dont get too dependent on a feeder. In the winter the squirrels try to get into it.

• United States
30 Jul 08
The squirrels aren't very active this time of year, but in the cold weather, they're everywhere. We put squirrel food out and hide peanuts in the tree for them. They're fun to watch.

• United States
2 Aug 08
Nice picture! I suspect he'll figure out how to make it sooner or later. I have a hard time keeping the squirrels out of the feeders. I didn't used to mind them but we're overrun with them here and it's frustrating because they can empty a bird feeder in short order.

• United States
2 Aug 08
The funny thing is, the pole he is looking up here has a hummingbird feeder on it. There is a wooden stake next to it and he climbed most of the way up that and leaned over trying to get to the hummingbird feeder, never mind the feeder that was on the wooden stake was filled with seed that should have been more to his liking.

• United States
31 Jul 08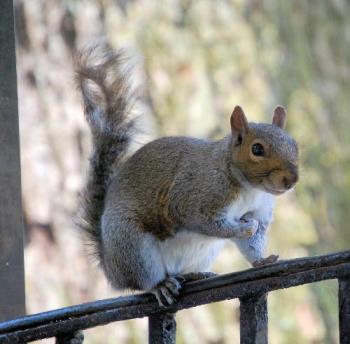 I have two bird feeders out and the squirrels never mess with them. However, the squirrels get their own treats and plenty of peanuts everyday. So with their fair share of the treats around they are not too interested in what the birds are eating. However, the blue jay and the black bird do love to still the peanuts from time to time.

• United States
31 Jul 08
That's about the same here. We feed pretty much everything we see come around, so there shouldn't be any fighting over the manna.

• United States
2 Aug 08
LOL that's so cute. I don't have birdfeeders so I don't really know, sorry.

• Lubbock, Texas
6 Aug 08

Squirrels are so cute unless they completely overrun your property and dig up all your plants. I don't have squirrels and I haven't put up a bird feeder, but I love to watch my cat try to figure out how to get through the window to the birds that just right there!

• United States
6 Aug 08
We kept the squirrels well fed this winter and they haven't been around much at all this summer. Not a one has come and bothered a single plant. I guess there's enough for them to eat in the woods alongside this property.