Montauk Monster - What do you think it is?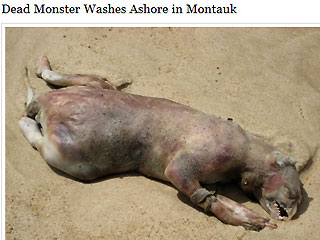 United States
August 1, 2008 9:08am CST
I am pretty surprised I haven't seen a discussion about this yet. A few days ago a weird creature washed ashore in the Hamptons. It has been nicknamed the "Montauk Monster". Could easily be an animal that is half rotted from the ocean. Anyways, it was found near the famous Plum Island animal research facility (if you don't think this place is famous and dangerous, you need to do some research) so some people this it is an animal experiment, others think it is a ad for the cartoon network cartoon (cryptids are real). I have attached the pictured, but you should really read the article. http://www.foxnews.com/story/0,2933,395294,00.html What do you think this could be?
1 response