Passenger Beheaded on a Canadian Bus: Are there any terror free zones anymore?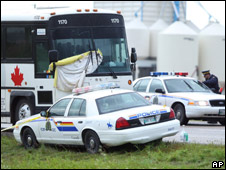 Uganda
August 1, 2008 10:19am CST
A man on a Greyhound bus travelling across the Canadian Prairies has killed and decapitated a fellow passenger.Why do we blame Osama if this can happen in the backyards of those committed to fighting terror? I cant imagine this gruesome act
1 response

• Canada
1 Aug 08
There are some sick individuals out there! To make matters worse he held up the kids decapitated head to show the rest of the passangers. This teen did nothing but listen to his music and sleep. If the suspect didn't like how loud the music was, all he had to do was ask the kid to turn it down, if he still didn't then the suspect could just switch seats. As far as I know, the bus was pretty empty. This terror on the bus has nothing to do with Osama though. It wasn't an act of terrorism, just of pure ignorance. This sicko should be put in an empty room with nothing in it and let loose a bunch of this poor kids family members to do whatever they feel justifiable.