Our bounty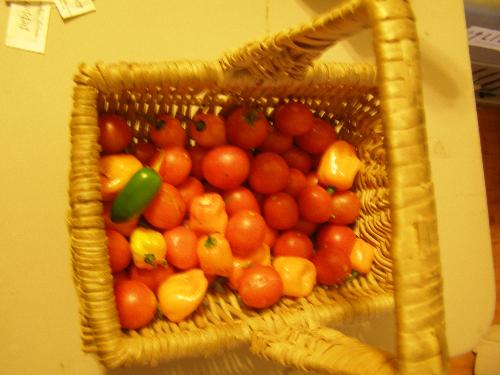 United States
August 1, 2008 2:58pm CST
Well a small bounty but a bounty none the less. We got habeneros, tomatoes and a jalapeno today. I am going to plant some zuchini and beans today (longer growing season here in FL). I love getting my own veggies from my garden. I am going to make salsa from the tomatoes and jalapeno. I am going to save some seeds from the tomatoes. They are heirloom plants and did so well i want to plant them again. Does anyone out there save seeds from good growing plants? How is your garden doing?
5 responses

• Canada
2 Aug 08
Great! When I lived in Tampa, I wouldn't plant until October and then harvest in February. You must be in Northern Florida, where the seasons are a little earlier.

• Canada
2 Aug 08
Aren't you going to tell your funny habenero story?

•
18 Aug 08
What's a habenero? I save as many of my own seeds as I can, but this year I've been really lucky as lots of my veg self seeded themselves. I've just been digging up the seedlings and transplanting them to where I want them! Let nature do all the hard work LoL My garden this year isn't as good as in previous years as I'm not living there full time just now. I'm going over maybe a couple of times a week to water and weed and harvest, but it could really do with more. Saying that, we're having a fabulous bean harvest. I've been chopping runer beans all morning to put in the freezer. the rented house has a freezer in, so I'm being very lazy and freezing rather than using any of my normal preserving methods.

• United States
18 Aug 08
A habenero pepper is one of the hottest peppers according to the skoval (I know that is spelled wrong) scale. It is a small yellow to orange pepper really quite pretty but oh so hot.

•
24 Aug 08
Now I know! I've just realised that what I thought were really hot little chilli plants are actually growing me some rahter large mild ones. It's not a problem as they're lovely, but it means I haven't any of the hot ones this year. I bought seedlings this year instead of growing my own, and the guy must have sold me the wrong plants.

• United States
24 Aug 08
i should send you mine lol. They will burn you right up!

• United States
2 Aug 08
Ive always wanted to grow my own little garden with things in it wether it be flowers or or veggies. veggies would help me out so much because they are expensive in the stores. im just scared that i wont beable to keep them live lmao.

• United States
2 Aug 08
All our veggies are in containers due to bad soil (sand)here in FL. They do really well. You might just want to start with just a good hardy zuchinni plant (can't hardly go wrong with them) or a good tomato plant. Then build on that. Just water and feed and make sure they get plenty of sunshine.

• India
2 Aug 08
Every thing goes well... for me until bugs, insects..fleas..call whatever name you like.. they torment my veggies, and destroy them.. and all the hard work that i put all the day... goes in vain.. May be Sweety you have a best pest control measures and so could be lucky enough to grow the veggies you like.. Take care dear.

• Canada
1 Aug 08
Oh, I've got to send this discussion to my husband, who has stories aout both habeneros and zuchinis in the garden. I'll send this along to him and let him tell you about his adentures in gardening, and about why a relaive of his needed to take a bath in buttermilk one day, because of the dang habeneros. :) This just reminded me of that. Thanks for putting a smile on my face.