Mark keeps saying two to three years, but I just don't know . . .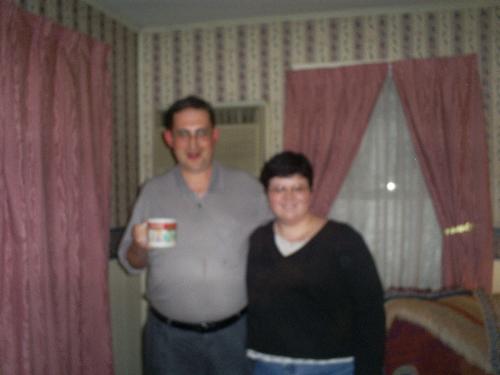 United States
August 1, 2008 5:18pm CST
Mark is still telling Amanda that he wants them to court (not date, court) for two to three years but I still have my mother's intuition kicking in very strong. He may fool me, mind you, but all of me is saying he won't wait that long. Even if they do wait a while to get married I think he will give her a ring before then. I guess I'm just starting this discussion to hear myself think LOL!!He has told Amanda and told me also that I will make a good mother-in-law!! I have decided that if he says it to me again I will tell him, "Well, when the time comes I will be the best one that I can possibly be." LOL!! He and Amanda were talking on the phone yesterday and he was asking her how I was doing. He knew I had had some problems that were bothering me related to my work situation because Amanda had shared it with him. He was concerned about whether or not the situation had gotten better. When she told him that things were better now and that I am handling it okay he told her "That is good, I don't want anyone bothering my mother-in-law." Needless to say she was surprised and when she told me my jaw dropped!!As I said, I guess I started this discussion just so I can put my thoughts into words. If any of you have any thoughts to share with me I will love to hear them. :) Thanks so much for listening and for being terrific friends!!SheliaLee
7 responses

• United States
2 Aug 08
Well I can understand that, sometimes it's easier to think aloud (or type, especially if it makes you money)! Well, I hope that you do get to become a mother in law soon and I am sure you will be a great one as I have read a few of your discussion on your daughter and her bf, and you always speak of him so kindly! Wish for the best for not only you but your daughter and her bf's relationship! Have a wonderfully lovely day.

• United States
2 Aug 08
Thank you for your kind words!! I hope to be a good mother-in-law when the time comes and I believe it will, it is not a matter of if but when LOL!! She is talking to him on the phone right now even as I am typing, they talk on the phone every day, sometimes three or four times a day. She has him as a favorite on her phone so they can talk longer because he lives in Mississippi while we live in Alabama. I'm glad it doesn't use minutes on our family plan LOL!! I enjoy hearing her laugh and be so happy. Sometimes when she is in her room talking to him she gets to laughing so hard you can hear her all over the house!! It does my heart good!! Thanks again and have a wonderful day!!

• United States
3 Aug 08
They seem like they are really in love then, I know that I loved talking to my fiance all the time before I moved in with him. Is there anyway he could move up to Alabama to be closer to ya'll?

• Philippines
2 Aug 08
Hi there SheilaLee! Reading your post, I thought I am reading what my mother was thinking when my boyfriend was still courting me. :) Well, two to three years is considerably a very long time for courting. I think your intuition is right for thinking that Mark wouldn't wait for all those time. But I guess if you think he's ok, time wouldn't be a problem, right? As long as he and Amanda really get together good enough, that's ok. A decent man is really hard to find this days and I'm glad Amanda has one now right by her side. I hope they get along fine with each other. Sorry to hear that you're having some problem regarding your work but I hope it will get sorted out soon!

• United States
2 Aug 08
Good Morning! It truly is hard to find a good man in this day and time and that is why I'm so proud for Amanda. Mark came along when she really needed someone also and she is very blessed! Even if they do wait as long as he says it will still be okay, Amanda is willing to wait and we will just get to keep her a while longer here at home LOL!! My work situation is much better now and I appreciate so much your response. There were just some things going on that I wasn't happy about but it seems to be straightening out. :) Have a wonderful day!!

• Canada
2 Aug 08
May God bless Mark!!! This is the man that the lord has sent to Amandas side and no doubt there is a good reason your daughter had that unfortunate experience which is in the past and no need to bring it up again. This is just meant to be. I am very happy for your family to have such a nice young man to be soon joining in marriage.

• United States
2 Aug 08
You are right Grandma!! The Lord is always in control even when hurtful things happen and He knows what we need when we need it. I truly believe that He sent Mark into Amanda's life and I will be very happy when they do get married even if it is two or three more years LOL!!

• United States
2 Aug 08
Isn't it fun!!!! BEfore my son got engaged his girlfriend/now wife started calling me mom....the first time she did it I was kind of taken back! LOL...but after they got married I am now used to it....though she calls me by my first name when her mother is around....and that good with me.....

• United States
2 Aug 08
Hi Jill!! Yes, it is fun!! I am looking forward to being a mother-in-law for real, I'm just wondering when it is really going to happen LOL!! Mark will not call me Shelia and he will not call my husband Steve although we have told him that we don't mind at all. But he says he wouldn't be showing us respect by calling us by our first name so he will not do it. He is only 9 years younger than me and 10 years younger than my husband LOL!! But he is extremely old fashioned and that is just the way he feels about it. But I am glad he is old fashioned because he has been nothing but a perfect gentleman to our daughter. He is 17 years older than her but he has given her the maturity that she needed. Her self confidence has blossomed tremendously since they started dating. We are very proud that God sent him into her life when he did. :) Thanks for responding hon!! Shelia

•
1 Aug 08
Hi SheliaLee, Courting is a very old fashion word and I think it is very nice, but there is a big but if your intuition is kicking in. maybe you should go with it so watch this space and you know best. Give him a chance though he seems a nice guy. Tamara

• United States
1 Aug 08
Hi There Tamara!! You are right, courting is extremely old fashioned and Mark is definitely that, old fashioned. But I think that is wonderful!! He told Amanda that he doesn't like to use the word "dating". He said he feels like that refers to people who are dating one person after another. He said he prefers to say that he is courting Amanda because that refers to seeing someone that you are planning to marry. So he is definitely planning to marry her, in fact, he has told me that he wants to. We were sitting in the living room one morning talking. He had gotten here early to pick her up and she was finishing getting ready so I just sat down to talk to him. He is a very nice young man and easy to talk to. He will open up and talk to you about anything. He told me that he wants to marry Amanda. I think he wants to give her time to finish college because he knows she is wanting to be a school teacher but he also worries about her transferring to another school. He is afraid she will find someone else. Amanda has assured him, though, that she loves only him and doesn't want anyone else. Recently when they were visiting one of his cousin's she asked him "Mark when are you two going to tie the knot?" He told her probably two or three years. His cousin then told him "Oh don't wait that long!!"" Amanda told me this, that is how I know about it Ha!! Ha!! Amanda is willing to wait because she loves him with all her heart. I guess it is just a Mama's nature to wonder and worry about these things. Thanks so much for listening to me!!

•
1 Aug 08
I am sorry to hear that things are so bad I think it can help to write things down and just get them into perspective. They say a problem shared is a problem halved and I have to agree. I hope that things will sort themselves out soon.

• United States
1 Aug 08
Thanks so much for your response Micki!! I didn't mean to sound like I am worried, although I guess it sounded that way. I guess I'm just trying to figure out what is going on in Mark's mind, which there is no way I can do that LOL!! I guess I'm wondering if my husband and I need to start preparing for a wedding soon LOL!! We will definitely not be upset if they want to get married because Mark is a fine young man and a wonderful Christian man, he just keeps saying one thing then says these other things and Amanda says to herself "Huh!! Is he trying to ask me to marry him now or not?" and I'm wondering the same thing LOL!! Oh well, we will just have to wait and see I guess LOL!! Take care!!

• United States
3 Aug 08
You think he is saying two or three years as to not scare Amanda or you guys off? Like maybe he thinks getting married that soon to Amanda would worry you? It sounds like he is very respectful, and that bodes well for the relationship. If a man doesn't treat his "elders" with respect, then he isn't husband material. Not that you guys are elders. I kind of giggle at the thought of you being an elder. : )