Your dog on your bed


India
10 responses

• United States
3 Aug 08
every night are buddy comes in and sleeps on the bed. I git so angry sometimes because he likes to use my legs as his head rest . I sometimes want to kick him off but i dont have the heart to. he is are sweat buddy and we love him.

• India
17 Sep 12
I not like dog on bad I like only husband on bed hahah..just joking. But I not like but my FIL likes they played with dog on their bed. My mother in law also not like this.

• Philippines
7 Sep 12
We have a neighbor who really love pets and she also have a dog. She also allow her pets to sleep beside her. Its okay with her but i always saw her cleaning her bed sheets.

I think dogs also really like to sleep in a soft cover because when our dog was a puppy, he always sleep in our carpet and if i transfer him in the floor he will wake up and go back in the carpet. So cute..


• United States
6 Aug 08
My dog sleeps on my bed all the time. He thinks it is his bed. lol That can actually lead to a few problems becasue he will sometimes get alittle bit agressive come bedtme. Not usually but my hubby has a habit of kicking him accidentally or something. Mostly he is a very sweet little pet. I like my dog.

• United States
6 Aug 08
I don't have a dog, but my cat does sleep in my bed. She loves sleeping at the foot of my bed at night, then when I wake up in the morning she'll get to the middle of the bed and curl under the covers and sleep that way. She's a really cute kitty.

• United States
4 Aug 08
My dog used to sleep with me on my bed when it was bigger. Since she is a lab-mix, and I have moved to a smaller bed, she can no longer fit. Also, I would have to wash my bedsheets more often because it was hard to even sit on my bed without being covered in her hair. Most of what I wear is black, and her fur is yellow and white. It was easy to train her to get off of my bed. I just told her no every time she tried to get up here. If she got up here, I would tell her, "No" and "Down." And when she got down off of the bed, I would praise her, and pet her, so that she would associate being off of the bed with being good. She would still do it for a while when I was not in my room, but she knew when I came home, so she would hop off. She's so silly. I think she has stopped now, though. It is hard to get on my bed unless you can get over all of the blankets and pillows.

• United States
3 Aug 08
I don't have a pet. But you know the they are human to a degree. If he or she climbes in the bed after you get out they want to see what it feels like. To them you look comfortable, they want to try too. That means your dog has more people qualities than just being a dog. I know you know what I mean.

•
3 Aug 08
Ot doesnt worry us at all if the little chap comes on our bed,he is more than welcome!but lol now he has got older the thing for him is that he hasnt got the energy to jump up onto the bed,and often he hasnt got the enery to get up the stairs either,but lol he used to always be snuggling up with us,and we have never minded one little bit.

• United States
3 Aug 08
Could you put a sheet or blanket over the area of the bed that he sneaks onto? Then you wouldn't have to worry about doing your linens every morning after he's slept on the bed. I do my sheets pretty regularly and my dog is an inside dog, so I don't worry too much when my girl sleeps on the bed. She's warm in the winter!


• United States
3 Aug 08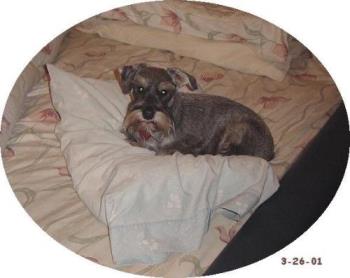 Hi, I have five dogs as you can see from my avatar.

The mini schnauzer Fritz, the one in the photo and the big black lab mix, Midnight, sleep with me. Midnight usually sleeps on the floor or on the other side on my bed, but Fritz is right beside me on his pillow. Yes, he has his own pillow to sleep on.
Can you say SPOILED??
[i]Happy MyLotting, Char[/i]