Has your family been forced into the unemployment lines yet?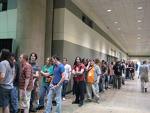 United States
August 3, 2008 10:30am CST
Im getting a little uneasy with my boyfriends job because they have been sending him home early so much these past few weeks and I wonder if we will be in it shortly. The only thing I can think of is that I will have to start working third shift again because if I worked days, after daycare costs and gas, my check would not even be worth anything. I have been to the unemployment center one time about 5 years ago but that is the last time I ever want to go there. My father was in the Air Force and it reminded a lot of how it felt waiting on the base, its eerily cold, too busy and boring as ever...just uncomfortable. My god, I couldnt imagine having to wait there with the kids, Id be pulling my hair out by the time we got seen. What are your stories? I really do sympathise and only put this topic up as a support so we can just talk about it--everyone seems have fallen on hard times. I know they just signed a bill to lay off a bunch of government workers in California, Arnold called the whole system broken and that it didnt need to come to this.
3 responses

•
3 Aug 08
My dad was made redunant back in June. He has been searching for a job but nothing has come along yet this is the longest time he has ever been out of work. He has worked since he left school that is forty five years of work without a day off sick. Now he is at a loose end he does not know what to do with himself as he does want to work but his age goes against him. He also has the extra worry of finding the money to pay his mortgage. My mum is unable to work due to having four hip replacment ops over the last 20 years or so. So it is happening everywhere.

• United States
3 Aug 08
your story illustrates so much in the way of older workers and its unfortunate that people in their 50s have to continue working so hard but my heart goes out to your families. My father retired from the airforce about 20 years ago but he still lives on a meager pay.

• United States
3 Aug 08
No, not yet, but there are no jobs in our area except for McDonalds etc. So if you have a good job but don't like it you still just have to stick it our for right now. I graduate in Dec. and hoping that I can get a better job with a little more security, b/c I do feel that my job could dissolve at any time.

• United States
3 Aug 08
I am a stay at home mom so I will not be let go from my job. My husband works for a feedlot that is doing well so I am not worried about his job he seems to have job stability right now. I keep reading in the paper about places laying eop;le off though and I feel bad for those people.