How many of you popeye fans know that there is a city with a statue of him?

United States
August 5, 2008 12:38am CST
My husband and I like to go to Chester, Illinois because they have a really good smogarsboard. But there is also another reason. There is the neatest statue of Popeye there. Also throughout the town you will find a statue of Olive Oil and her baby. On the buildings there are painted different scenes with Popeye, Olive Oil, her baby and Brutus. Also the man who loves hamburgers who I can't remember his name. It is a pretty cool city to visit.
5 responses

• Regina, Saskatchewan
5 Aug 08
His name is Wimpy. He was always asking Popeye to buy him burgers and promising to pay him back on Teusday! LOL I am now putting Chester, Illinois on my places I want to visit. I LOVE Popeye! ROFL

• United States
5 Aug 08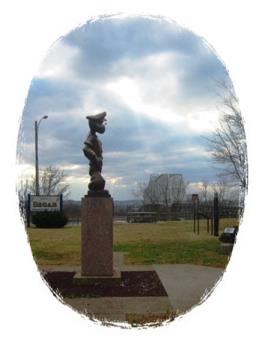 Hi sparkofinsanity,I couldn't for the life of me think of his name. I love Popeye and this little city where the statue is is the coolest place. I forgot to post a picture of the statue. I am going to do it here on your response. I also put exactly where it is located in the photo details.

• Regina, Saskatchewan
5 Aug 08
LOL - Looks just like him doesn't it? I left a comment on the pic too. Off to bed now. Goodnight sunshine.


• United States
5 Aug 08
One of the other responses told me the name. But I didn't know that they had come up with a actual hamburger chain named for him. That is interesting.


• United States
5 Aug 08
I have never heard of that statue. It must be a sight to behold. It sounds like the paintings are very inspiring also. It sounds like you and your husband have a good life and are very happy together. Do you and your husband travel a lot?


• United States
5 Aug 08
We don't travel now. But we do like to go for a ride. And Chester is not to far from where we live. We do have a good life together. Over the years the places we have been I like to put here. I think it is interesting and figure the members would like to hear about some of the places we have been to.

• United Kingdom
13 Aug 08
Blimey Popeye brings back fond memories, I used to sit down as a child and watch that, but I hate the taste of spinach! Horrible stuff, even as an adult I can't eat spinach, probably one of the only vegetables that I refuse to eat! Wimpy is the name of the character who loves hamburgers, although I am sure someone has already pointed that out, I am still catching up on notifications after being away. That was a great cartoon and it's fascinating to hear that they have put up statues to honour such a great cartoon character.