New lcd tv from Samsung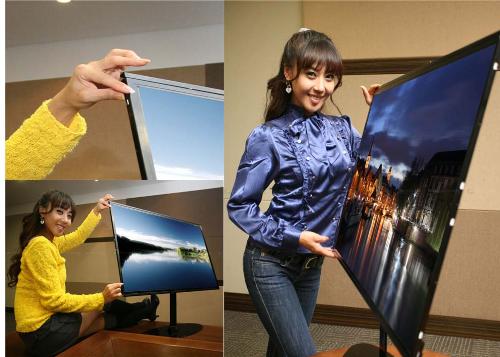 Iraq
August 5, 2008 6:35pm CST
Where will new technology drive us, Samsung Electronics Co., Ltd., the world's largest provider of thin-film-transistor, liquid crystal displays(TFT-LCD), will unveil a diverse array of leading-edge LCD panels for monitors, Vs and digital information displays at FPD International 2007, in Yokohama, Japan,October 24-26. Samsung is out to prove that existing LCD technology can be placed on an extreme diet. This 10mm panel uses an LED backlight to provide what Samsung claims is 92% of the NTSC standard for colour saturation - almost as good as a CRT TV – but with a low power consumption of under 90W. What a wonderful TV is that, when we will actually see them in shops is anyone's guess?
5 responses

• Canada
6 Aug 08
They are supposed to be in production during the first quarter of next year.

• Iraq
6 Aug 08
Thank you for the information my dear friend. Thanks for your response and have a good day.



• United States
6 Aug 08
I would guess within another year if the FPD was last October. I saw one of those really thin lap tops they have on the market now, awesome. Personally, I will wait until there are several companies using the "skinny mini" technology before I buy one.

• Iraq
7 Aug 08
Yes you are right about that, and it's price will be a little cheaper. Thanks for your response and have a good day.



• United States
6 Aug 08
I am fascinated by those extra thin TV's. The only problem is that they might be easy to break. I also think that the thin TV's tend to use more electrcity than standard cathode tube TV's. I like the idea of those TV's when it comes to moving though. It is always so hard to pick up and move those big TV's.

•
5 Aug 08
Hi Alkurishy, With so much new technolog I can't keep up well it might in five years, we'll never know. Take care your friend Tamara

• Iraq
5 Aug 08
Yes we can't keep with all these new technologies, Thank you for your response and have a nice day my friend.


• Canada
5 Aug 08
My old TV that Dad and my grandparents gave me in 1993 still works jut fine. I don't een have it plugged in to the local cable right now, beause I am never at ome enough o make paying for cale worthit. I think those new TVs are too loud. I have problems going into elecronic sores ecause of the volume and sound of the TVs that ae in here on display.

• Iraq
5 Aug 08
Well, it is good to keep those old things, and you right about what you say above. Thank you for your response and have a good day.