Are you pregnant? Share you're thoughts.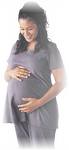 Philippines
August 8, 2008 10:43am CST
Hi to all MyLotters,I'm starting a new topic regarding who's pregnant in here? As i am three months pregnant now. Let's share thoughts about this wonderful condition of a woman. Pregnancy is a great miracle that the Divine Above only knows how it happened inside a woman's body. Now that my husband and I are having our first hopefully, we are much much grateful for this bundle of joy. We are excited to see our baby. So far, everythings working fine and i hope & pray to have a healthy pregnancy always. How about you? Any preggos here?
No responses