Favorite picture of your cat.

August 9, 2008 11:40am CST
If you have a favorite picture of your cat, and most of us do, add it here:)
2 responses

• United States
9 Aug 08
I love my kitty!! But I do not see a link to add a picture!! Boo! She is an all white cat with an attitude thinking she owns everything! She is so precious!

• United States
9 Aug 08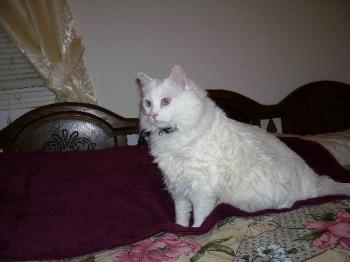 My white cat Buffy is a gentle and loving angel with me. But plays rough with my husband because he encourages it. Buff never does that with me though. He is a solid 23 pounds and very strong. We call him the king of the house. And is of course spoiled rotten. lol