Do you like the outdoors?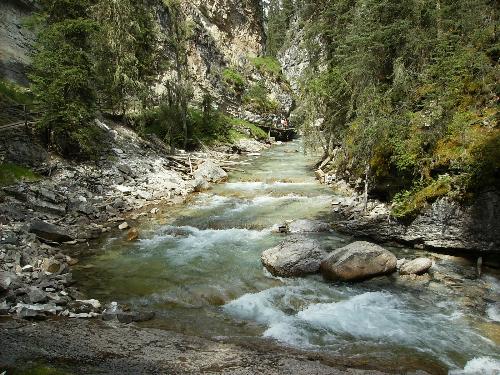 Canada
August 11, 2008 9:45am CST
I am a big outdoor person and go to the mountains in Alberta and BC quite a bit. We went again this last weekend, on Friday since we had the day off, my daughter and I and my hubby who was here for a visit. Here is a picture my daughter took and it turned out so beautiful I just had to share it with my friends here in mylot. We were hiking on a path above this and it was breathtaking. The view was breathtaking, not the hike. Since I have lost 30 pounds I am finding it a lot easier to hike and I am able to go farther each time we go out, which is almost every weekend. I think this picture would make a great wall picture and I have tons more of these kinds of pictures and so if anyone knows how I would go about producing them to sell, I would appreciate the help. Or if there is a site on the computer that pays for pictures that they can use for, say, calenders or mass produced pictures like the ones they sell in stores for cheap, I would appreciate the knowledge. Do you think there is a market out there for this kind of thing? What do you think. Would you buy a picture like this if it were blown up and framed nicely?
4 responses

• United States
11 Aug 08
I'm not real big on the outdoors only because the misquotes always end up eating me up. I mean I love the look of the outdoor and sometimes being outdoors to feel the air and breeze and all the other stuff. But the minute they start biting and start to dislike the outdoors and just want to get back in the house. But I probably would buy a picture like that one day.

• United States
11 Aug 08
Hi chris,
I am very fan of nature and I do love outdoor activities..I love hiking as well as spending a lot of time on the beach, falls as well as mountains...Anyway, I have no idea about sites but try framing those and post it at ebay, I know a lot of people loves to have a collection of different wonderful sites and maybe you can also ask your friends there to visit you and display that products!




• Canada
12 Aug 08
That is probably a good idea. I may try that, selling them on ebay. I will have to give it more thought. Thanks for the idea, my friend.


• United States
11 Aug 08
I do enjoy the great outdoors myself and if I get a chance I would like to take photos of the beauty of nature as it presents itself. I like the trees, foliage and flowers. It is a very beautiful thing. I think that I would buy a picture of what you are speaking of and have it blown up and framed. I think that it would make a nice add on in a house. The picture that your daughter took seems beautiful and even more so if enlarged. Can't say that I know of any sites that handle pictures for use of calenders and the like. Good luck though.


• United States
11 Aug 08
I do like the outdoors and it is good to be able to capture the beauty of nature such as your daughter has taken. I like taking photographs myself. Especially of things outdoors like beautiful flowers, foliage and the like. These would make great wall pictures. You have a good idea here. I can't say that I know if there is a market out there for this but I think that I definitely would take the picture and blow it up and frame it.