How "smudged" or dirty are your eyeglasses/spectacles?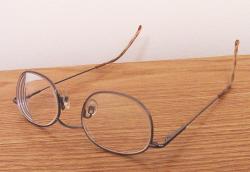 India
August 13, 2008 9:58pm CST
My eyeglasses are usually smudged a little! I try to clean it often, but it becomes smudged - I don't know how. How smudged are your eyeglasses right now?
6 responses


• United States
14 Aug 08
Not smudged at all, after your reminder to go and clean them. Half the time, I'm so used to them being dirty that I think the world is supposed to look that way and I don't clean them. Then someone like yourself comes along with a small reminder and I realize how dirty I've let them become. Thanks so much for saying something. LOL.

• United States
14 Aug 08
My glasses are always pretty clean, but they do get smudged every so often when I reach for them or take them off. They also have some small scratches because my cat happened to try and bite them off of my face when he was also trying to assert his love, they just got in the way of his affection so to say. At this moment though, they are probably smudged because it's been a few days since I have cleaned them, ah well.


•
14 Aug 08
Mine are a little dusty, but luckily not smudged. I tend to to use a lens cleaner which helps get rid of the smudging. I have found that paper towles are no the best for cleaning as the fibres tend to remain on the lenses.

• United States
14 Aug 08
My eyeglasses, as is usual, are very smudged. I clean them once in awhile, when I have trouble looking through them


• Philippines
18 Nov 08
my eyeglasses is a bit smudged. it has small scratches which i think is brought about by the cloth i use to clean it which i believed is the best cloth because it came with it. this is the 2nd spectacles i have eversince i started using one & the 1st one has the worst scratches.