Fishing - do you like to bait?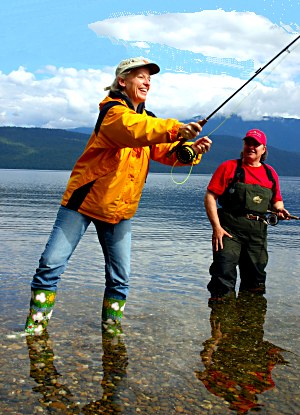 India
August 14, 2008 10:43am CST
When I was in my home town, I used to go out with my cousins for fishing.There were many rivers near my place, so we don't require to go far.My cousins catches so many fishes - big,small and me, none.I don't even know how to hold the fishing rod properly,it was fun.I still remember those days and cherish.Am missing those days at this moment.
7 responses

• United States
16 Aug 08
My Dad loved to fish so I guess I got it from him. He taught me to bait a hook when I was very young. He said if you are big enough to fish you are big enough to bait your own hooks. I am legally blind and cannot drive so I have no way to go fishing now but I really do miss it. It was so relaxing for me to go spend some time wetting a line and I really miss it!

• India
16 Aug 08
My dad he is less bothered about fishing but he loves to watch people fishing.My Uncle and cousin brothers they just love to go fishing and I usually go along with them.It is quite sometime now, I haven't been anywhere, nor for fishing.My life has become boring.

• United States
19 Aug 08
My life is any thing but boring. I have a very busy life but I still miss fishing very much!

• India
20 Aug 08
Well, I guess you can still sometime take out little time out of your busy schedule and go for fishing.I know we are busy and that we hardly have time but we are just humans,not robots to just work,work and work.We also need to relax.So, my friend don't wait for the opportunity,grab it and go.You will get out of your boredom.I am planning to go as soon as my fiance comes back to town.Good day!



• Kuwait
14 Aug 08
I do loved to go fishing with my friends here in Kuwait and it is such a wonderful time at this time to go fishing because now it is "Summer" in here and most of the fish that we catch are Lapu-Lapu and the small fish we always return it back to the sea.......

• Kuwait
16 Aug 08
Kuwait is located in the Middle East Country and it is still an Asian Country and we are less than a million in case of population counting and we are very near with this places like Saudi Arabia,Iraq, Iran, Dubai or Arab Emirates and if we will go out fishing with friends usually we used a private yacht or sometimes we rent......

• United States
19 Aug 08
Sometimes I use "live" bait and sometimes I fish without live bait. I have used live worms and minnows. I have used frozen minnows, as well as frozen bait (smelt, herring, and others) that has been up to seven or eight inches in length! (I have caught fish using these that were approximately three feet long - maybe a meter?). Other times, I have used no "live" bait on my hook. Instead, there is a "spinner" -usually some little metal spoon that spins in the water as the line is pulled in. This attracts some of the aggressive fish, which do not like things rattling in their water, and they grab the hook (and I catch the fish!)


• Iraq
16 Aug 08
I love fishing so much, and I go fishing in the Niel river cos I am in Egypt, and when I go in my vacation on the north coast I do fishing there too, as you see my avatar while I am fishing on the north coast of Egypt. Have a nice day and happy posting.


• United States
14 Aug 08
I live In Texas. I use bait. I use nightcrawlers, minnows, and chicken livers. We have alot of Catfish here. Haven't caught a big catfish yet, but I try really hard.

• United States
14 Aug 08
I live in Florida so we go fishing often in lakes and canals and have even fished at the beach. My husband will bait the hook if I ask but I am able to do it myself, too. I just don't like putting the hook through a live fish when we are using those for bait.

• India
14 Aug 08
Oh,even I don't like to..I love to watched my cousins excitement when they caught fish, if it is a bigger one, then their joy knew no bounds.I used to play with water, but it is dangerous in my place to go for swimming in such river waters,there are electric eels and it is too deep.

• India
27 Mar 09
I enjoy watching people when they are fishing.My husband loves to go out fishing on weekends with his friends.I usually just go along with them to give him company and have some fun watching them catch fish.Last time,we went out was some 2 weeks back.