Save the world day today

Australia
August 14, 2008 11:08am CST
Today is Save the World Day. I am lucky enough to be helping out on a display my organisation will have on the beach in the afternoon because of this special day. It is another reason to think of all the things we can do for the environment, or to pass it on to others. Some things I do: .air dry clothes instead of using dryer .eat vegetarian (no animals or fish or birds) (some people think this is too full on to expect the general population to aim for) *turn my work laptop off at the wall every night (and turn the laptop and extra monitor off) *Don't use an electric phone in the home *unplug my recharger as soon as my mobile has finished re-charging *Eat raw foods whenever possible and make crackers etc. in dehydrator so I don't use a stove How many things can you all add to this to Save the world?
2 responses

• Spain
15 Aug 08
hello i 'm ok with some that this things. but i dont think that eat vegetarian not animals or fish can save the world. Every person can choose eat only vegetarian but only for convictions. In the wordl have a lot of animals that eat other animals and this is not the problem . other things -thaw in the refrigerator -Recicled -the microondas spend less energy to other form to heat -used bulb low consumption -.....

• Australia
16 Aug 08
Hi Croquetilla What are microondas? Thanks for the tips. One reason being vegetarian helps is that animals that chew the cud (such as cows) create methane gas from both ends because they chew the cud and this is damaging for the environment. It is said that being vegetarian helps the environment as much as taking a car off the road for a year. Other reasons it helps is that abbotiors cause lots of pollution and lots of carbons are used up from transporting the animals to markets and abbotiors and then transporting the carcases. These are just some reasons as I respect your views and don't want to over force this on to you, but if you do some research in to this matter, you will find out that being vegetarian certainly does help the environment. I know many other things also help the environment too, such as some of the things you have mentioned, so that is stil good.

• Philippines
9 Oct 08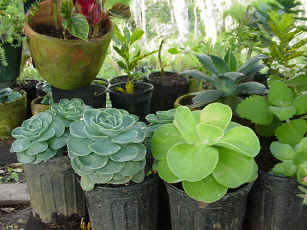 - I turn off appliances and pull the plug off when not is use. - We don't use the dryer as we cannot afford to buy one. - We have plants in our garage & terrace. - We don't use the air conditioner anymore. - Conserve water like using a cup when brushing teeth instead of letting the water run.