what's for dinner?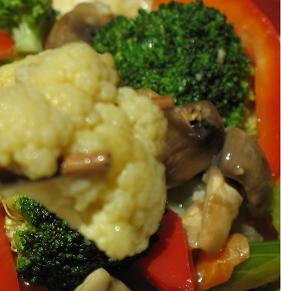 Philippines
August 14, 2008 11:56am CST
i just finish cooking. i made chopsuey, white rice & grilled plum & peaches. chopsuey, i think is a chinese dish, mine is made up of chopped cabbage,brocolli,bellpepper, cauliflower, young corn and carrots, mixed with a gravy like sauce & topped with cashews & sliced boiled eggs. how about you? what will cook for dinner?
10 responses


• Philippines
14 Aug 08
have you tried making pesto out of your basil? i just did a couple of days ago. My basil grows pretty fast too,plus a friend of ours who moved gave me another pot of basil so i have a lot! or you can just slice up the tomatoes,throw a few basil leaves and toss it in olive oil.

• United States
14 Aug 08
I haven't even thought about what to cook for dinnere tonight. I have some hamburger thawed out so I suppose I will make something with that. I might have an easy night and just make some hamburger helper and open a can of green beans I am not in a very ambitious mood today.

• Philippines
14 Aug 08
thats good enough. hamburger helper is also my thing when i dont have anything planned for dinner.=)


• United States
14 Aug 08
sounds real good. u went all out. it's leftovers at my house. swiis steak & rice, english peas & carrots. bet mine is not as good as yours.

• Philippines
14 Aug 08
you'll never know until you try =) have you tried chop suey? its good,healthy & yummy, you should try making it if you have the time.

• United States
14 Aug 08
i have never made it, not sure i have ever eaten it. i like chow mein & alot of chinese dishes.we have a good chinese restaurant here. i very seldom go out to eat. am not going out to eat by myself, that's no fun. cooking for ne is a problem. i do cook all the time but i eat alot of leftvers. lol

• Philippines
14 Aug 08
when it comes to chinese,my personal fave is the kung pao & general tso's chicken. our leftover day is saturday lunch time. all the leftover from the fridge should be done, otherwise, i will not cook new food for dinner,LOL! if you just live somewhere near my place, i will be glad to share with your leftovers,LOL!

• United States
14 Aug 08
i use to tell my friends we needed to start a leftover club. don't u live in michagan? i live in tennessee, afraid it would be a little far. appreciate the offer tho.

• Philippines
14 Aug 08
yeah i do live in michigan. a leftover club is a neat idea. ive been to tenessee, thats in memphis i guess, where elvis'mansion is. i also have friends there, they live in chatanooga.

• United States
14 Aug 08
I can't remember for sure what I have planned for dinner tonight. I put together a menu for the week on Saturdays and then we go grocery shopping to get what I will need for the week. All I remember is that it has turkey sausage links that I will cut into quarters. I think there is Bok Choy/Napa cabbage in it. It will have some Penne pasta. Probably garlic or onion or both. As for the rest of the ingredients, I don't remember. Yours sounds good! I hope you enjoyed it!

• Philippines
14 Aug 08
i do put together a weekly menu too. it makes planning easier, even buying the stuff that you need is easier when you have it all planned. with bok choy, i usually just stirfry it in sesame oil & garlic & thats it. adding turkey sausage links maybe a good idea. thanks.

• United States
14 Aug 08
It sounds like you whipped up something really good there. Do you consider yourself a good cook? I am mediocre at best. The broccoli and bell pepper that you added to your dish sounds really delightful. It also sounds quite appetizing. You seem like you are quite creative too. Now to tell you the truth lipstick, I am planning something pretty simple for dinner this evening. I pulled out some frozen hamburger to defrost and now it is in my refrigerator. I am planning on using the tried and true box dinner tonight with maybe something else to add to it. It is something that you mix seasoning with and heat the hamburger and noodles and it actually does turn out pretty good. It's just one of those recipes that only takes a few steps. Just boil some water and fry some hamburger and there you go! There are some evenings when I feel more creative. I enjoy making chicken dishes and coating them with different seasonings. I like to add Italian dressing or even alfredo sauce. It is really good. You ought to try it sometime if you haven't already. I like to make healthy meals also being that I have a young four year old son. He can get pretty picky from time to time but I have to try.


• Philippines
14 Aug 08
you can try making chop suey. its not an original recipe, i just copied it from one chinese restaurant where we used to eat. i have tried chicken & alfredo sauce but not the italian dressing yet. I might do that next week coz we just had chicken yesterday. ( i just mixed curry powder, coconut milk, cumin,chili pepper flakes with chicken tenders and grilled them ) i love to cook a lot. i spend almost half my day in the kitchen (the other half in front of the laptop,LOL), i dunno if im good but my husband & friends loves what i cook most of the time =) it feels good when what you cook is appreciated, isnt it?

• United States
14 Aug 08
It does feel nice to be appreciated especially for cooking a nice meal. Have a good day.



• Philippines
15 Aug 08
haven't eaten bamboo shoots for months now. last time we had it, i sauted it in garlic & onion,add beansprouts & carrots and wrapped it in eggroll wrapper. then i fry it... thanks fo sharing.

• United States
14 Aug 08
I have no idea what I'll be having for dinner. I'm sitting by my husbands hospital bed right now. So whatever the cafeteria is cooking tonight is what I'll be having.If I was home I'd be making chicken fried rice tonight.

• Philippines
15 Aug 08
chiken fried rice sounds really good. i hope you & your husband can get home soon so you can have a good dinner.

• United States
14 Aug 08
Tonight I am making tacos and rice for dinner. My son has football practice, so it has to be an easy and fast dinner. Sounds like your dish is going to be yum!

• Philippines
14 Aug 08
yours is yummy too. i miss having tacos, i might try making one on weekend. thanks.